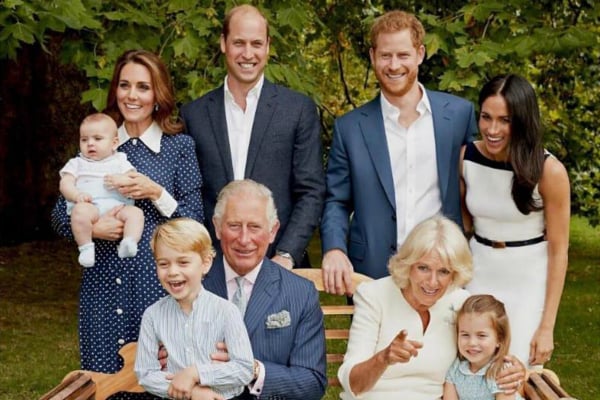 To catch up on all things royal family, make sure you check out our Royal Hub. We've got you completely covered.
If you want a concrete example of just how much the British Royals have lightened up over the past few decades, take a look at their official portraits. Once staid and stiff, the Windsors are now doing their best to project a more, erm, relatable public image.
The family photo taken to celebrate Prince Charles' 70th birthday is a prime example.
Princes don't even bother doing up top buttons anymore. Or wearing ties. (They're cool now, see?)
Spouses can have actual physical contact.
The children don't look like ghosts.
Not just a polite chuckle, but – in Meghan, Duchess of Sussex's case at least – a proper bent-over, out-loud laugh.
The question on everybody's minds after the images were released on November 14, was what gave the Royals the giggles? Did the Queen wander past in her trakkies? Did little Prince Louis let one rip? Did they suddenly notice the whole awkwardly colour-coordinated outfits thing?
Well, it turns out Maria Borrallo, the nanny to the young royals, was responsible for the hilarity.