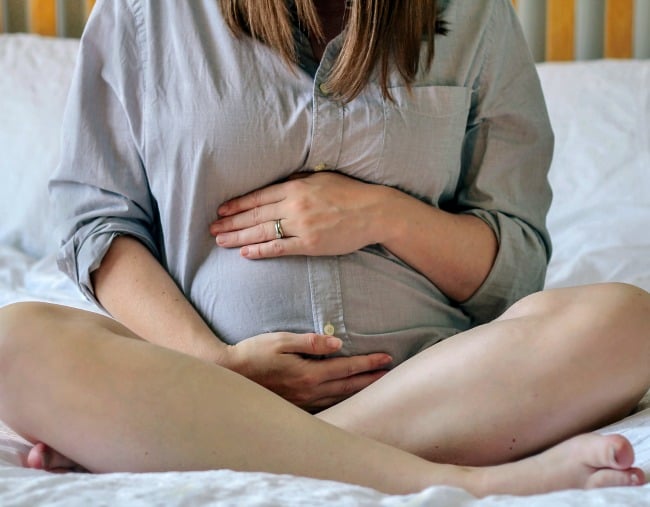 So, you're pregnant, and wondering what strange symptoms are expected from your body now? Well, pregnancy can indeed bring with it a whole raft of different symptoms, and no pregnancy is the same.
You probably know the common signs – morning sickness, fatigue, tender breasts and frequent urination. But there are other side-effects that don't make their way as often into discourse. We spoke to two experts about symptoms such as pregnancy discharge, heartburn and constipation, and whether bleeding or spotting is ever okay.
Why do we get pregnancy symptoms?
Sydney GP Dr Ginni Mansberg tells Mamamia pregnancy is an enormous change for the body to take on.
"There are a huge number of hormonal changes, and almost every system is affected through pregnancy," she says.
"You put out much bigger amounts of progesterone and oestrogen."
Dr Mansberg says the thyroid – a gland in the neck that's in charge of making hormones – plays a key role in developing a healthy baby. During pregnancy, she says it increases its output by about 40 per cent.
"Because blood volume increases so much, a lot more is demanded of so many of our hormones and they all have to increase."
And it's all these hormonal changes that are largely responsible for most pregnancy side-effects.
"All people are different and our responses to hormonal changes and physical changes in pregnancy can vary a huge amount," Dr Mansberg says.
Who is more prone to pregnancy symptoms?
Dr Philippa Costley, a Melbourne OB/GYN and spokeswoman for the Royal Australian and New Zealand College of Obstetricians and Gynaecologists, says pregnancy is like any other condition, in that how it presents itself can vary from person to person.
"Some women breeze through pregnancy while for others it can take a huge toll physically and mentally. There is huge variety," she says.
Dr Costley says there are some factors that can influence how symptoms are displayed. She says women in their 40s are more likely to experience more severe symptoms.
"In general as women get older, their bodies find holding a pregnancy more difficult," she says.
She also says a woman's health status before falling pregnant can impact how your body copes, such as having a higher BMI or untreated psychological conditions.
She stresses that no matter what symptoms you are noticing, it's always important to discuss them with your midwife or doctor.
At what stage are pregnancy symptoms the strongest?
Dr Mansberg says early pregnancy is when most women will be hit hardest by symptoms. She explains that as the foetus just about doubles in size every day, huge demands are being placed on the body and hormone production goes into overdrive.
"[Symptoms are strongest] right at the beginning, when the baby is doing an enormous amount of growing and the hormonal changes are at their peak," she says.