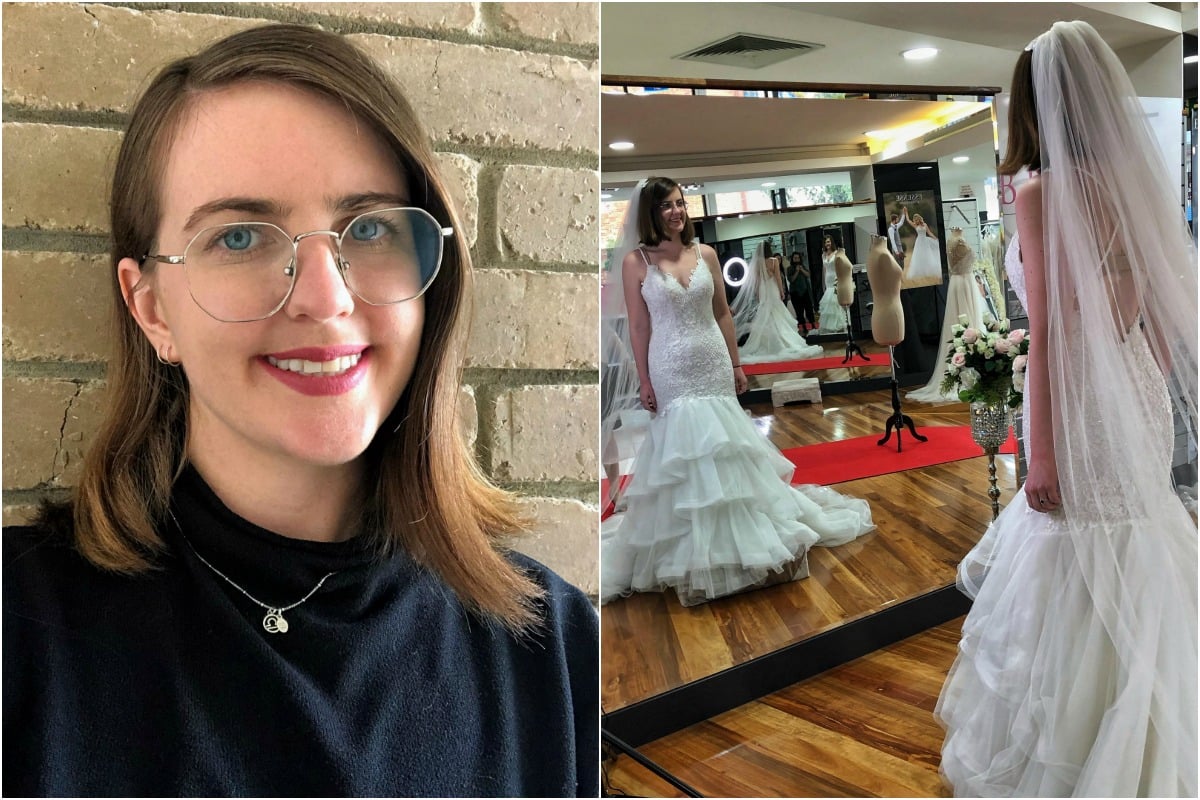 Standing on a small crate with red carpet glued to it, holding a bouquet of plastic roses, draped in a two-metre-long veil and wearing a dress that costs more money than my bank account contains, a feeling I never expected comes over me.
I feel like a bride.
Has the room gone silent or have I lost the ability to hear as I stare at myself in the mirror? It seems like the kind of moment where speaking would be inappropriate, the moment all little girls dream of growing up. Or, at least, the moment all little girls are told to dream of.
Psst! On our You Beauty podcast, host Kelly McCarren shares all the products she used to do her own wedding makeup. Post continues below.

Marriage has always felt like an expectation: at some point in your late-20s or early-30s you get married, and a few years later you start producing offspring.
The average cost of an Australian wedding currently is around $50,000. That's a hefty price tag for a paper signing ceremony.
Of course, this price can be drastically reduced. As I twirl in my $3,600 dress to show off all the different angles to my two-person entourage, I am fully aware of the op shop around the corner where I could find a white dress for under $10. Hell, I've been hitting the gym recently – I'm sure I could squeeze into the midnight-blue dress I wore to my year 12 ball.
That would never do though, because wedding dresses have to be white, they have to be the latest fashion, they have to be extravagant. In other words, they have to be expensive. But… why?
As someone who will never get married, whose prepubescent 'dreams' of marriage caused more stress than anything else, I have never understood the appeal of weddings. That's why I'm now standing in this lacy, sparkly, ruffley gown with my two best friends and a sales assistant fawning over me – I'm on a quest to understand. 
And what better way to understand than to plan my own wedding? 
As a true millennial, my wedding planning process begins with downloading a free wedding planning app on my phone. To set it up, I need to supply the name of my partner, the date of my wedding, the number of guests coming and the budget. I plug in all this information, picking names and numbers at random, and when it's all done the app presents me with a checklist of tasks to get done and the dates they need to be done by.
Task 1: "Announce your engagement to family and friends."
Engagements are a funny thing. They used to be a handshake between two men as a woman was sold from father to husband. Here lie the origins of the engagement ring; they exist as a symbol of the ownership and subjugation of women. 
Of course, this has changed for the most part. Now women actually have a say in who they marry, and rings say, 'I'm not single' instead of 'I have an owner'. Another change has been the ring itself: what used to be a simple band now holds on it a diamond.