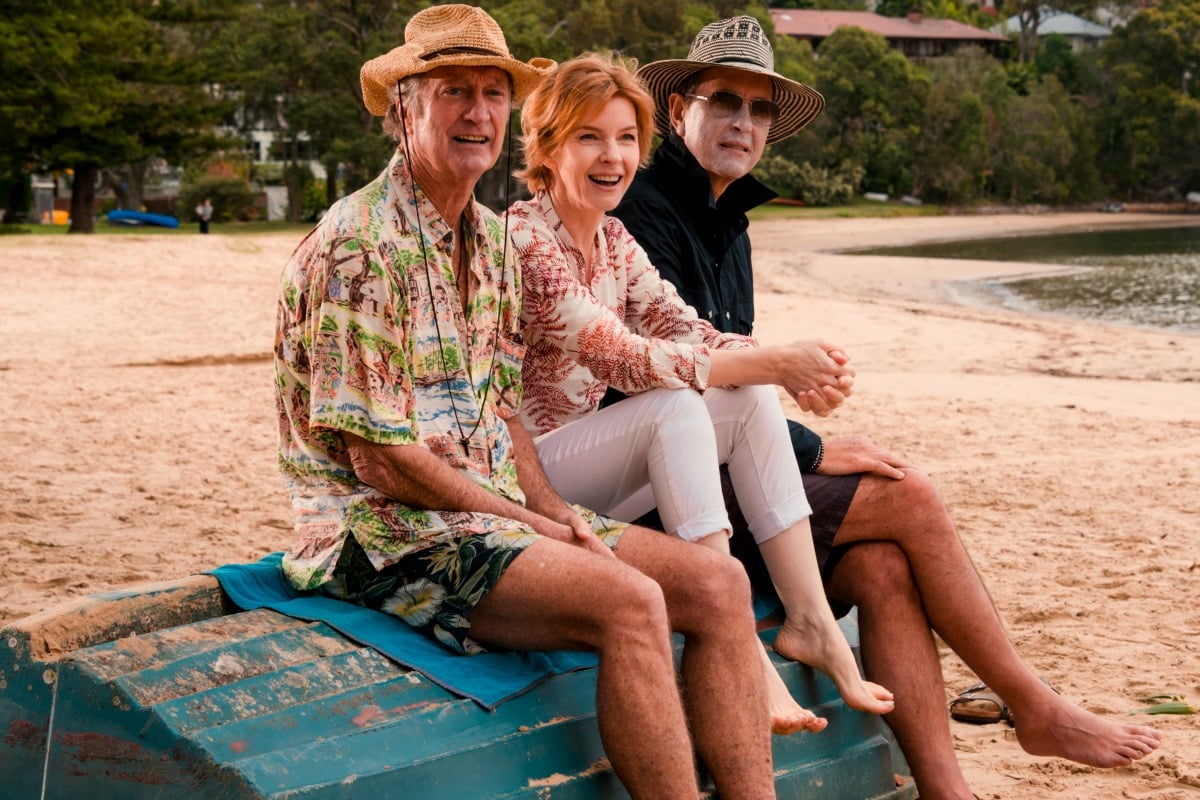 Settling down to watch Palm Beach is like cracking open a bottle of your favorite wine with your oldest friend.
There's a sense of easy familiarity to this film mixed in with just a hint of celebration, a comfort-watch movie that feels like home but is also here to make sure you have a good time.
Palm Beach stars Bryan Brown as Frank, a wealthy former music manager turned successful business owner who is celebrating a milestone birthday in the lavish Palm Beach home he shares with his wife Charlotte (Greta Scacchi).
In honour of the event, Frank has flown his oldest friends Leo (Sam Neill), his wife Bridget (Jacqueline McKenzie), Billy (Richard E Grant) and his wife Eva (Heather Mitchell) in from various parts of the world to Australia to spend the weekend reminiscing and boozing with him and his family.
It's a raucous reunion event because the three men of the gang are still in touch after finding fame with their band Pacific Sideburns, a band which peaked in 1977 after finding modest success with just one hit song called Fearless. 
The Spill is Mamamia's daily entertainment and pop culture podcast. Listen to hosts Laura Brodnik and Kee Reece talk about the extreme reaction to new movie Plam Beach. 
The film eases you into the story via a sumptuous montage of moments showing the old friends and their various children reuniting after years apart, it's a feast of emotion and in-jokes set against an ocean-side home and a view that can only be described as real estate porn.
There are endless shots of champagne being poured, heaped plates of prawns being consumed at a family-style celebratory dinner and more than a few musical moments that perfectly set the tone for what's to come.
As the weekend festivities carry on, however, the deep cracks, long-hidden secrets and lingering resentments that are buried beneath the surface of this decades-old friendship all begin to rise to the surface in a series of volatile moments.