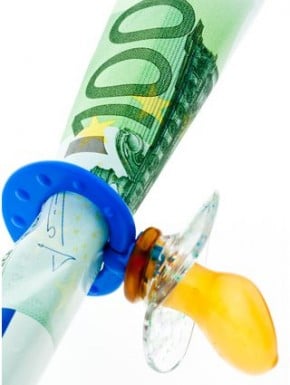 Prime Minister Tony Abbott has today done a u-turn on his signature Paid Parental Leave scheme. When it was first announced, women earning $150,000 a year would have received a payment of $75,000. In April this year, the PM pared it back to to $50,000 – and now all indications are that it will now be cut back even more.
The idea to fund the payments through a 1.5 per cent levy on big business will remain, but the savings will now go towards the 50 per cent rebate for home carers, including nannies.
The Prime Minister had previously presented the $5.5 billion scheme as a "signature" policy during the election campaign. But the Labor Opposition — and some within the Prime Minister's own Coalition Government — have slammed the planned scheme in both its forms; calling it unaffordable and inequitable.
Earlier this year, one Mamamia reader explained why she thinks the proposed 'Rolls Royce' paid parental leave scheme is all wrong, in all its forms.

This is what she had to say: 
—————–

There's a reason why I can't write this post under my real name. You see, most of my friends have kids. I have god children and two nephews and a niece I adore.
But as a 43-year-old woman without kids, it's impossible for me to say what I really feel about the Liberal party's proposed paid parental scheme because my parent friends would be horrified.
Before I continue, let's get one thing straight – I love kids. I also agree that raising children is the cornerstone of society and as such, should be supported by taxpayers. To an extent, anyway.