I've heard it said that you don't just watch Orange is the New Black, you live Orange is the New Black.
This intense viewership feeling stems not just from the brutal reality that seeps off the characters we have come to love and the grimy world we launch ourselves into for hours at an end as we binge watch.
It is also due to the fact that this cast of diverse women is the most realistic of any group we see on TV.
Most of us will (hopefully) never end up in prison, but Orange is the New Black gives us the tiniest little taste of the extreme emotions that take place there.
Which is why you might find yourself a little bit off kilter, and even feeling a little lighter, after watching the opening scenes of Orange is the New Black season six, but don't be fooled by what you see.
This season is just as dark and dangerous as the seasons that have come before it, it will just take you a while to realise it.
After the experiment that was season five, having the entire season's worth of drama take place across just a few days, season six is a return to normal pacing but not so much a normal setting.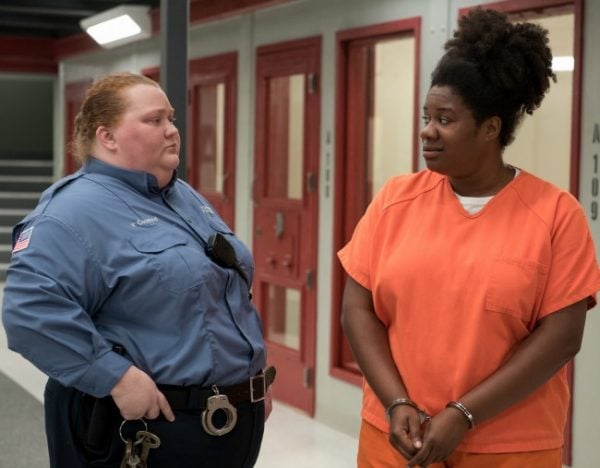 This time around our incarcerated ladies are being held in a maximum security prison thanks to their actions in the riot in season five, a scene some viewers may be keen to move on from. However, the writers very much milk it from a different angle.
Nobody is getting a "get-out-of-jail-free-card" this time around, so to speak, as the consequences from the season five riot are dire and now the characters are in a much more brutal setting than they have ever been before. They are now forced to navigate a whole new world.
Which brings us back to the jarring opening scenes of season six, in which Suzanne "Crazy Eyes" Warren (Uzo Aduba) is locked in a cell, yet seemingly adjusting to her new life in max.
She happily makes her bed and then settles down to watch "TV", which turns into her starring at the closed doors as all the characters from Orange is the New Black perform in front of her dressed in colorful costumes and portraying new characters.