The launch date may still be months away but Orange Is The New Black fans have been sent into a flurry after a Season Five teaser was leaked.
Danielle Brooks, who plays beloved character Tasha (Taystee) Jefferson, told E! while on the Screen Actors Guild red carpet that the upcoming season would be very different.
Listen to hosts Laura Brodnik and Tiffany Dunk discuss the Orange Is The New Black bombshell on The Binge.
"It takes place over three days," she said.
"It will be very detailed, very intense, and you better get ready."
Podcast host Laura Brodnik explained how the information had fallen into the fan pool like blood into a shark tank.
"That one little comment that Danielle dropped on the red carpet while they were asking about her dress, has just thrown fans into chaos – it's amazing," she said.
Laura speculated about how the shortened timeline could handicap the series in terms of thematic versatility.
"The whole show is going to be during the prison riot which I just feel like it's going to be very tense and sad and difficult TV to watch for a whole season," she said.
Laura also commented on how this thematic restriction could trickle down to individual characters.
"There's not going to be a lot of room for the characters to grow," she said .
"It's a bold choice but it's going to be incredibly claustrophobic."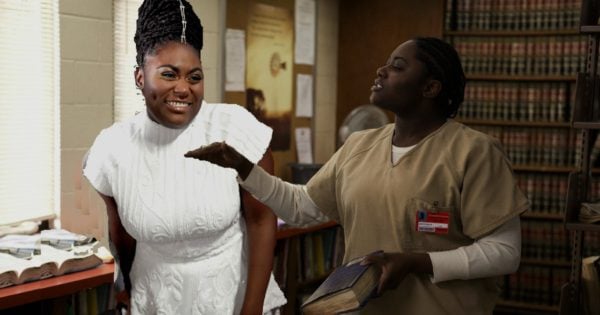 Tiffany agreed with Laura but described how that level of drama could translate into something positive for the series.
"I like starting off intense, that's what Game Of Thrones do so well, it ends on something super intense and it starts on something super intense, so it keeps you really gripped all the way through," she said.
Listen to the full episode of our top television podcast for the scoop on what's on our screens.
You can buy any other book mentioned on our podcasts, from ibooks at apple.co/mamamia, where you can also subscribe to all our other shows in one place.