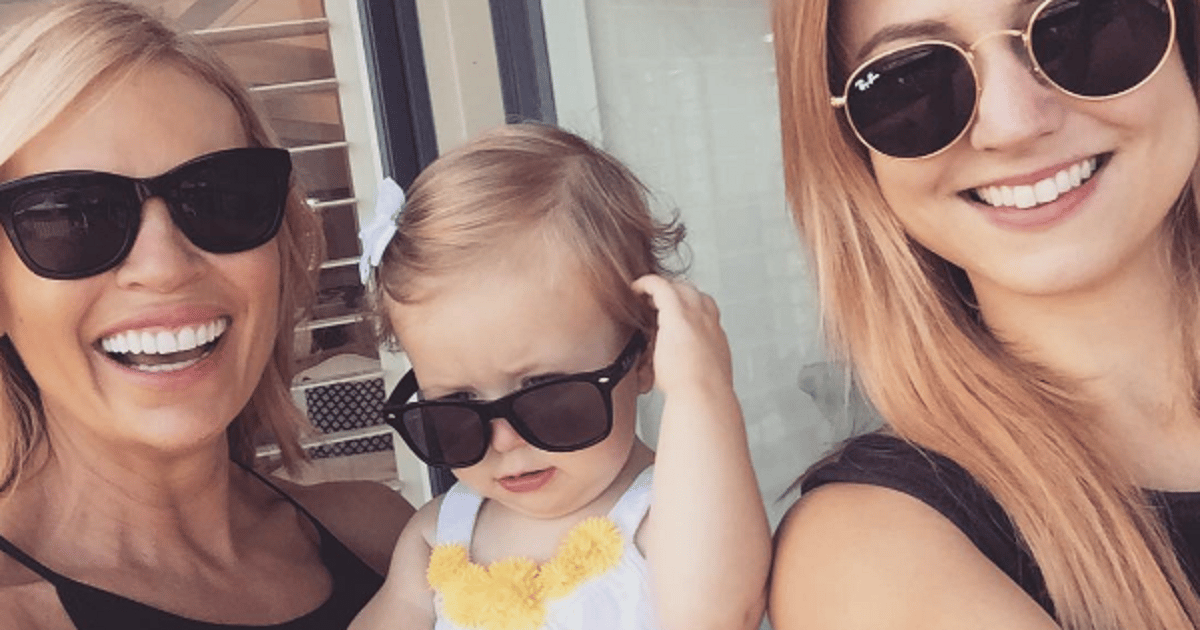 There are some names that make you a better person. They are that established (posh). Old-fashioned girl's names can make you taller, prettier, more successful and even speed up your metabolism.
Which probably explains why she is walking like this:
Oh, oh my goodness. Her name certainly wasn't very blue-blood. She's probably named Sienna, and it's probably spelled with a "y", as in Syenna.
His name must be Rex, or Jax, or Jex.
I've always believed that girls are more invested in their names than boys, which is why you need to think carefully about what you want to name your precious little daughter because if you choose one she doesn't like, you'll hear about it when she's a teenager, of that you can be sure.
Here are 21 girl's names are oh so old, yet oh so cool again and which have started reappearing on most popular girl's baby name lists for 2016:
1. Matilda
The 20th most popular baby name in Australia, Matilda is just an adorable traditional name for baby girls. It's originally German in origin however Banjo Patterson gave us permission to call it our own. Possible nicknames include Mattie, Tilda and Tillie. Uber-cool actress/writer/singer Molly Ringwald named her daughter Matilda with an "h" as in Mathilda.
2. Clara
Meaning "clear" and "bright", Clara just managed to finally crack a Top 100 in any baby names list in 2015 at 98. Clara continues to be a popular choice, described as a "sweet and soft" choice for baby girls. Moulin Rouge! actor Ewan McGregor chose the name for his daughter, showing once again how on-trend he always is.
3. Dorothy
The name Dorothy is notoriously difficult to shorten and why would you. It's eternally beautiful and no longer associated only with Wizard of Oz retellings. The name means "Gift of God" which explains why parents who, in the age of Google, have started choosing it for their babies.
4. Sadie
Sadie began as a nickname for anyone called Sarah, it has since become an independent given name. My dog is named Sadie, which makes it much, much cooler than it ever was. Aussie singer John Farnham made it ours when he sang Sadie, the Cleaning Lady. These days Sadie can do whatever she likes. She can run the cleaning company if she wishes!
5. Mary
There's something about Mary…which is why it never quite leaves most popular baby name lists around the world. It has several meanings, the most flattering of which is "wished-for child". The least flattering description is "bitter". And who can forget little Mary from Three Men and a Baby and Three Men and a Little Lady. Retro movie night time!
6. Anna
The resurgence of the baby name Anna isn't just due to Frozen. Well, it's probably mostly due to Frozen. However Anna is one of those classic names that lives on and never completely fades away. It reached number 34 in the U.S. last year and was the second most popular baby name in Australia for a time in 2015.
7. Emma
Any name used by Jane Austen in one of her books is fine by me. Emma has been popular since the 19th century and is on top of several baby name lists for 2016. Actress Emma Stone can probably take majority of the credit for that, as well as the decision by Friend's producers to name Rachel's and Ross's baby Emma. If it's good enough for them…
8. Elizabeth
Who hasn't known a Liz, Libby or Beth? Elizabeth, and all of its derivatives, was used by royal families in Europe. The name of cosmetics brand Elizabeth Arden cemented its image as a classic, classy name for girls. Betsy and Bessie are also names that are said to derive from Elizabeth. Some people are so imaginative.
9. Margaret
Margaret means "pearl", which makes gift buying pretty easy for anyone who knows someone named Margaret. Maggie is a derivative of the name and was chosen by Sonia Kruger as her daughter's name. Meg and Margo can also be derived from Margaret. It is still considered a Scottish name but is used in countries all around the world.
10. Ida
The meaning of the name Ida is "hard work" and "labor" however is also known to have descended from a Greek myth about a nymph named Ida. Maybe don't tell anyone who has chosen it as a baby name recently that particular definition. Tell them it means "goddess", which it does in some circles. It's particularly popular in Scandinavia and Denmark at the moment.
11. Bertha
One of the most "hated baby names in America" just a few short years ago, Bertha is coming back. It means "sparkling" which explains why Google-happy parents are choosing it again for their girls. Bertha's are said to be romantic and quick to fall in love. And just in case you were wondering why you keep thinking of cars when you hear the name Bertha, that's because Bertha Benz was the wife of Karl Benz, founder of Mercedes Benz.
12. Iris
Is your sweet little girl a "bringer of joy". That means her name should be Iris. It also means "flower" Famous writers aside, Iris is also the name given to the youngest child of Judd Apatow and Leslie Mann. And as hesitant as I am to go back to Greek mythology, Iris means "goddess of the rainbow" which is also quite lovely.
13. Adelaide
Not just the capital of South Australia, Adelaide is name born of French nobility there was a Queen Adelaide. Katherine Heigl chose the name for her second daughter and it is getting more popular each year. Aussie actress Rachel Griffiths also chose the name for her daughter.
14. Elsie
Before there was Elsa (from Frozen) there was Elsie and thanks to the increase of other traditional baby names for girls, Elsie is also rising up the ranks. It ended up being the second most popular baby name for girls in 2015 and is still in the Top 10.
15. Mae
The name Mae derived from May and Maia, and it is a popular name for baby girls born in France. Up around 150 places in the last year, Mae is still being chosen by lots of parents looking for something old-fashioned and cute. Originally related to the name Mary, Mae is now a stand-alone name and so it should be.
16. Pearl
Not only an old-fashioned name, Pearl is often referred to as an "old lady name". But when you strip back the daggy connotation, you see how perfectly it suits baby girls who clearly are jewels in their parent's eyes. TV producer Shonda Rhimes chose the name for her daughter.
17. Alice
The thing I like about the Tim Burton Alice in Wonderland movies is that Alice is stronger, less fragile and more in charge of her own destiny. While Alice is an old-fashioned name, it's welcome to make its comeback with that kind of weight behind it. Tina Fey named her baby Alice, helping it to crack the top 200 for the first time since the 1920s.
18. Grace
The name Grace started rising in popularity in 2010 and has remained there ever since. Grace means "God's grace" and as well as "mercy" and "favour". The lovely Grace Kelly, Princess Grace of Monaco, has ensured it never quite fades away.
19. Stella
The name Stella means star, which has left me kicking myself for not naming my daughter Stella. In Spain it is spelled Estella. It's a lovely name that the play A Streetcar Named Desired tried, but failed to ruin. Stella has English origins but is also popular in the U.S.
20. Audrey
Nine newsreader Deb Knight named her daughter Audrey and she was clearly ahead of her time, with the name rising to number 37 recently on most popular baby name lists. The name means "noble strength" and maintains its connection to old Hollywood glamour thanks to Audrey Hepburn.
21. Evelyn
The name Evelyn means "wished for child" which is so adorable and goes some way to explaining why the name is still featured on popular baby name lists around the world and it reached number 15 just last year. There are a few meanings assigned to the name but one suggestion is that it means "little bird". It used to be exclusively a boy's name but is now only used as a girl's name.