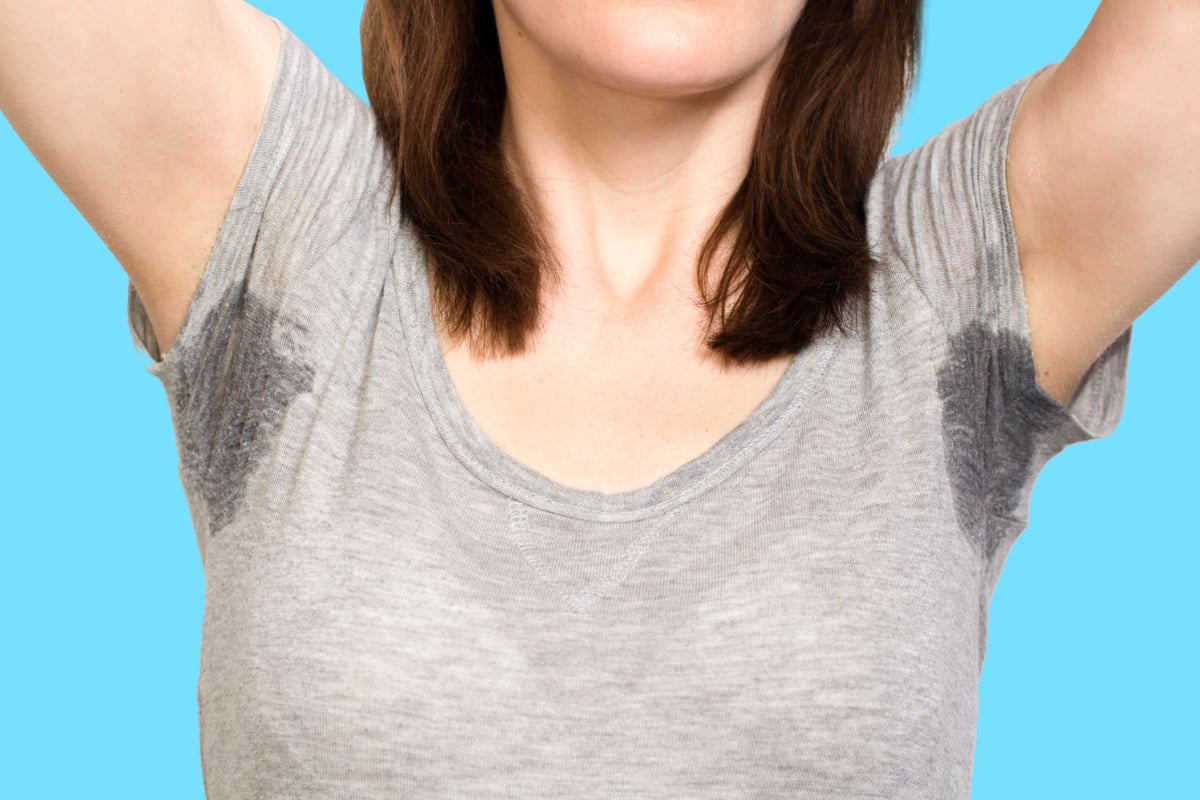 This wonderful nugget of beauty wisdom comes courtesy of Mamamia's beauty show, You Beauty. To ensure you never miss an episode, listen to You Beauty here for free. It's a blast.
Almost no one escapes being a sweaty person in summer. If you happen to, we would like to study you to further the human race.
For the rest of us, sweating it through summer involves avoiding grey marle t-shirts, reapplying antiperspirant like it's sunscreen and subtly sniffing your armpits at every opportunity.
Some people sweat more than others, and it's those people (this writer included) we need to be thinking about right now.
Excessive sweating is a medical condition to be diagnosed and treated by a GP or dermatologist, but even increased sweating on hot days can make you feel uncomfortable and self-conscious.
As Mamamia's executive editor and beauty editor of 15 years Leigh Campbell pointed out on the You Beauty podcast, there are actually two types of sweat… and only one stinks (get it in your ears below).
"Sweating is completely normal, it's your body is doing it to cool you down in the heat. There are two types of sweat, and you'll notice this in yourself. There's 'it's a hot day' sweat doesn't have much odour, and then there's your fight or flight sweat that you produce when you're stressed and panicked, and that's the sweat that has more of an odour and generally turns your clothes yellow," she said.
If you're struggling with either of these types of sweat, particularly in summer, there are a couple of options.
Clinical Strength Antiperspirant.
Clinical strength antiperspirants, otherwise known as aluminium chloride treatment, contain aluminium chloride to temporarily plug sweat glands and pores.
While effective, they can be tricky to remove and feel harsh and irritating on the skin, and generally cost more than standard deodorants and antiperspirants.
Dove Women Clinical Protection Antiperspirant ($13), Mitchum for Women Clinical Deodorant ($12.95) and Rexona for Women Clinical Protection Antiperspirant ($14.73) are all very similar, but most tend to prefer one over the others.
Extra Clinical Strength Antiperspirant.
A few products on the market position themselves as being the next step up from clinical antiperspirant.
One of those is No More Sweat. No More Sweat Total Body ($19.90) contains around 20 per cent aluminium chlorhydrate and dichlorhydrate and claims to last for four to seven days. The product listing on Chemist Warehouse has a bunch of five-star reviews, with many saying they only need to apply once or twice a week for dry pits.
Another popular option is Certain Dri Clinical Strength Antiperspirant, which claims to be the strongest antiperspirant without a medical script.
Medication and Botox.
The next step up is going to see your GP to chat about prescription oral medication options for excessive sweating. These work by regulating the part of the nervous system that controls your sweat production, essentially helping your body determine when you no longer need to sweat.