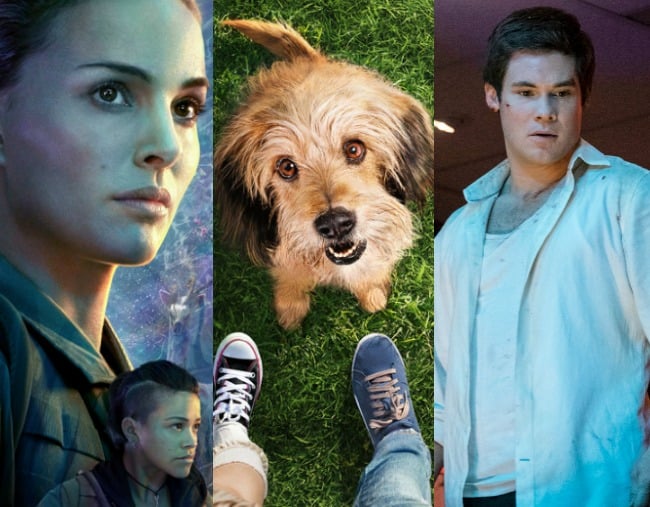 Netflix can often seem like a never-ending buffet packed with tasty new movie and TV options, but it can also be kind of overwhelming.
With dozens of different categories on offer and new content dropping every month, it's pretty easy to miss a lot of the good stuff.
Which is why we are here to help, here's a guide to the very best original movies coming to Australian Netflix in March.
Les Affamés
Friday, March 2
As a zombie plague ravages their rural Quebec town, a scrappy band of survivors join forces to flee the infected hordes in this quiet thriller.
The Binge discuss the Netflix dark teen comedy you should watch if you haven't already. Post continues.
The Outsider
Friday, March 9
An American soldier imprisoned in postwar Japan enters the dark world of the yakuza, adopting their way of life in repayment for his freedom.
Annihilation
Monday, March 12
When her husband vanishes during a secret mission, biologist Lena joins an expedition into a mysterious region sealed off by the U.S. government.
Benji
Friday, March 16
A determined dog comes to the rescue and helps heal a broken family when a young boy and his sister stumble into some serious danger.
The Legacy of a Whitetail Deer Hunter
Friday, March 16
Sixth-grader Jaden goes on a hunting trip that's meant to be a bonding experience with his father, even though it's the last thing he wants to do.
In case you missed it, The Ritual is Netflix's latest horror flick. Watch the creepy trailer. Post continues. 
Game Over, Man!
Friday, March 23
In this action comedy, three friends are on the verge of getting their video game financed when their benefactor is taken hostage by terrorists.
Layla M.
Friday, March 23
In response to the repeated bigotry she faces, a Moroccan teen in Amsterdam tries to find a sense of belonging in the world of fundamentalist Islam.
First Match
Friday March 30
Hardened by years in foster care, a teenage girl from Brooklyn decides that wrestling boys is the only way back to her estranged father.
Happy Anniversary
Friday, March 30
A quirky couple spends their three-year dating anniversary by looking back at their relationship and contemplating whether they should break up.
The Titan
Friday, March 30
In a future where Earth is ecologically doomed, a soldier undergoes an experimental transformation into a new species suitable for space colonization.
For more TV and film recommendations and reviews, you can follow Mamamia Entertainment Editor Laura Brodnik on Facebook.