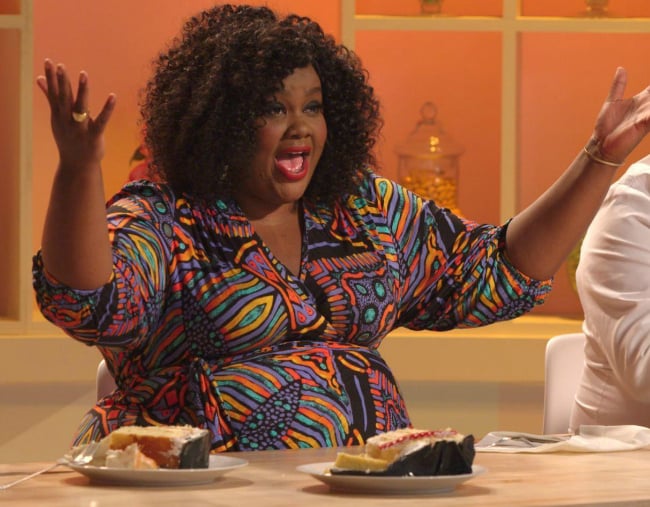 Cooking shows make for fun, family-friendly viewing. But sometimes you get a little bit tired of seeing so-called amateurs reproduce extravagant dishes with impressive accuracy.
Sometimes you just want to see someone fail spectacularly – and laugh along with them when they do.
And that's where Netflix's new series Nailed It! grants all our TV-viewing wishes like the brilliant entertainment-making genie it is.
The show's premise is simple: Home-bakers attempt to recreate those epically decorated baked goods and cakes that seem to only exist on Instagram.
First off – contrary to show's name, "nailing it" is… not really a thing that happens. The show's participants don't have the skills or the time to recreate these cake pops, donuts and three-tiered wedding cakes with fondant flowers. And that's the point. They're meant to try their best, yet come up a little – but often a lot – short and produce hilarious failures.
We dare you not to want to watch this show immediately. Post continues.
Like losing half the cake and having to make a stunted shark, or the doughnut that's about as unappetising as a lump of coal, or the cake that's meant to look like Donald Trump, but looks more like Gollum. (Or maybe that last one's accurate?)
But the magic of Nailed It! is that this is never mean-spirited. We're never cruelly sniggering at people's culinary disasters, we're laughing along with them.
The host, comedian and actress Nicole Byer, sets the tone with her hilarious observations and facial expressions.
Meet the woman who's shutting down trolls by turning their words into cake. Post continues.
Each week she's joined by a guest judge – someone in the baking or confectionary world – as well as French chocolatier and pastry chef Jacques Torres, who is equally delightful.
The contestants are just everyday Americans, from stay-at-home mums, to retired police officers, to maths teachers. Their hearts are always in the right place, and their skills always fall woefully short of what's required to make these creations.
Sometimes they don't look at the recipe close enough and leave out the eggs in their cake, sometimes often something burns and sometimes they forget the buttercream.
And that's why it's so brilliant. Because who can't relate to that? Who hasn't attempted to make a birthday cake castle and ended up with a pile of purple-iced mess or baked cookies that ended up flat and crispy instead of round and soft? We watch and we cheer for these bakers, because we want to see them try their best, just like we do.
They're not running around in the kitchen for nothing either. Each episode a new batch of three contestants comes in and each time one winner walks away with $13,000 (US$10,000) in prize money - which is showered on them with a money gun.
It's a fun, fast-paced show from its opening credits (randomly, but perfectly set to a techno tune) to the moment the cast take a selfie and Nicole says she'll see us in the next episode "starting in 10 seconds".
The episodes are also a short 20 or so minutes, and with just six episodes in the season, you'll be trying to keep from bingeing them all in one go.
So far it hasn't inspired me to bake anything myself, but I know that the next time I do, I won't be too upset if I don't nail it.