When it comes to buying gifts most of us fall into one of two camps: dread the idea and/or stress about it and end up getting them a gift card, or relish the chance to find that perfect present you know they'll love.
The bad news is that even when you fit into the second category, there still comes a point when you just run out of ideas, especially when it comes to your older relatives. There's only so many times you can get Nanna a scarf, pyjamas or some potpourri.
The good news is that I've found a gift that I'm pretty confident practically everyone will love.
It's a Nescafé Dolce Gusto Picolini Coffee Machine.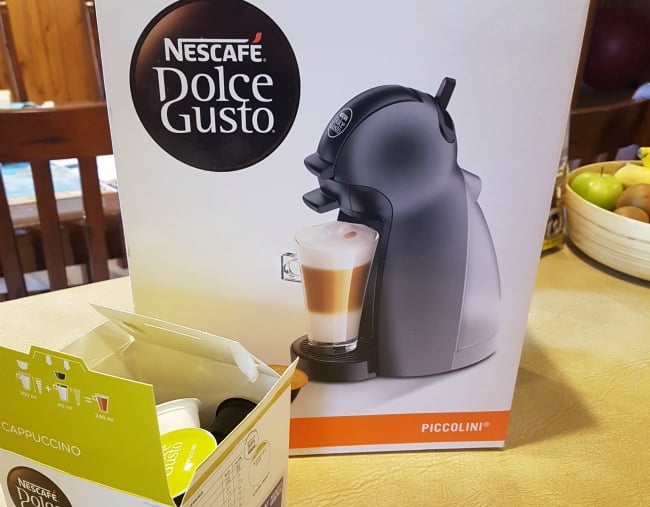 For those not familiar with the transformative simplicity of pod coffee machines, they are by far the easiest way to make cafe-style coffees at home. No bean grinding or coffee tampering required.
This one is so straightforward to use that even someone whose kitchen competency ends at turning the kettle on (we're looking at you, Grandpa) will have it mastered on the first go.
(Which is important in gift-giving - because the last thing you want is to pop over and see that digital photo frame you bought still slide-showing through the promo photos.)
I road-tested the Nescafé Dolce Gusto Picolini Coffee Machine at home and found it super easy to use.
First, I chose what I was making: cappuccino, macchiato, Americano or a chocoletto (Which is Nescafe for hot chocolate.) I grabbed the one or two pods you need (one's the milk, one's the coffee) and popped one in.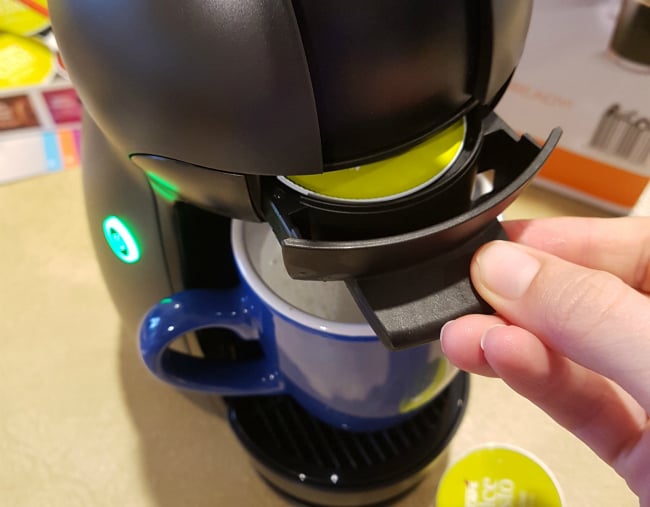 Then I slid the lever to the hot side and watched the coffee pour out, stopping when there was as much as I wanted.
This is what makes this coffee maker so versatile - you get to choose how much coffee and milk you're going to put in. So if you're a quarter-strength latte kinda gal or prefer your coffee a little more watery than most, you can get that without having to pour anything down the drain. And because unlike some machines, this one has milk pods you don't have to miss out on your coffee if you've run out of fresh milk.
It even has a cold function for making iced coffees - which doesn't sound all that appealing when it's 15 degrees outside, but will definitely be a welcome feature come summertime.
Cleaning up is also simple - the part of the machine where you place the pod slips out so you can just take it over to the bin and turn it over to chuck out the used pod, and then fill up the water container for next time.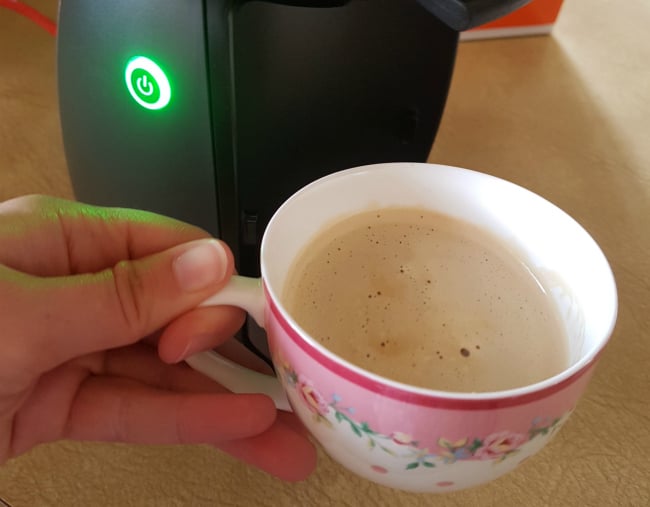 It's not bulky at all, so it can stay on the bench next to the kettle. Whoever you've given it to can make themselves a coffee every morning that's so much tastier than instant, but not any harder to make. It's not for your die-hard coffee snob relatives, but anyone who usually makes their coffee from dehydrated granules will be very impressed.
And it's priced at just the right price for gift-giving. Right now the Nescafé Dolce Gusto Picolini Coffee Machine is on sale for $49 - which includes bonus 32 bonus cappuccino capsules (to make 16 coffees).
What great gift ideas have you found for under $50? Tell us in the comments.