No, you're not seeing things. It's true. Everyone is wearing kimonos right now.
Bright, breezy and impossibly silky, these colourful bits of material with exotic prints, clashing colours and sparkles are popping up all over the place.
In your Instagram feed. On your go-to online shopping sites. Stylishly draped over the shoulders of your colleagues, and with good reason.
There are so many reasons to put a kimono on your body as soon as possible.
They're versatile, cost-effective, trans-seasonal, lazy, comfy, can be dressed up or down and are a great way to inject colour or prints into an otherwise monochrome outfit.
But one question remains… how the bloody heck do you wear one?
If you're someone who doesn't wake up looking like an off-duty model (so that's pretty much all of us), figuring out how to make your kimono look like you know what you're doing can be daunting. Do I look like an idiot? you ponder. Am I boho/eclectic enough to pull this off?
The answer is yes, the self-confessed kimono addicts from The Style Cantina, Danika Johnston and Michelle Thomas insist.
We asked them exactly how one wears a kimono without looking like a) you forgot to get out of your pyjamas or b) a sparkly, colourful bed sheet.
Wear it long and open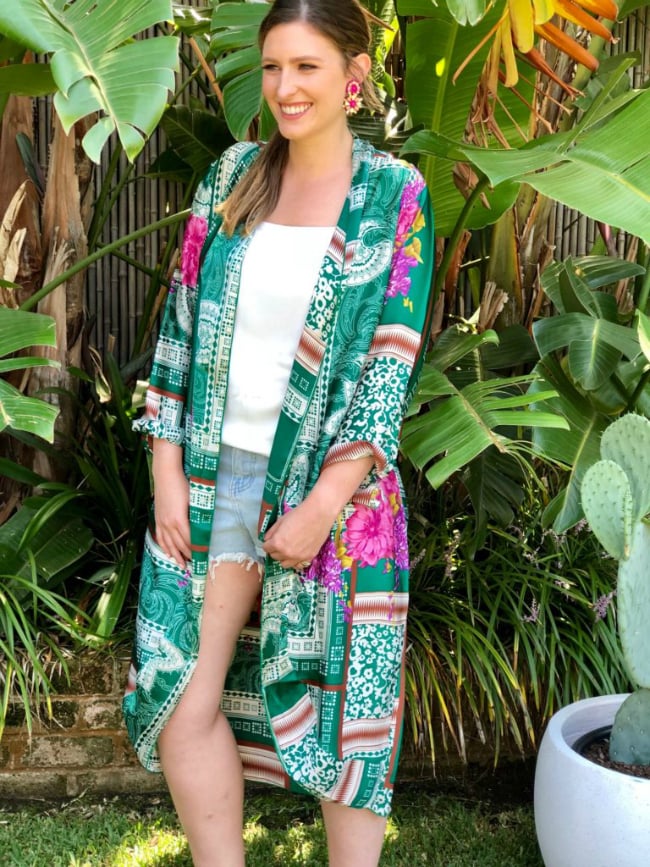 This is in fact the easiest way to style your kimono as all you have to do is poke your arms through the sleeves and remember to lock the door on your way out.
"Kimonos are perfect for those warmer days when you need something light to wear over tops and your pants/shorts/jeans, as well as during the cooler months with a shirt or long sleeve top underneath," Dan and Mish told Mamamia.
If you're looking to ease into the kimono game, wearing it long over jeans with a block colour or black underneath is the easiest way to get started. This is also a great option for when you want a bit of coverage over a figure-hugging dress or want to dress up something plain.
Tied as a shirt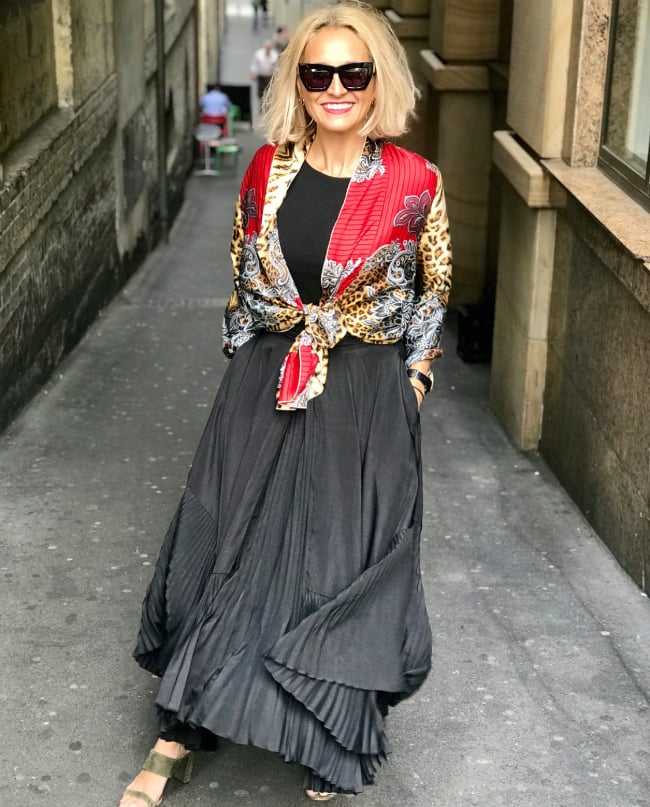 Next, Dan and Mish said you can style your kimono as an open shirt to get more millage out of your purchase.
"We love the idea of showing women how to style their kimono in so many different ways to get several outfits out of one purchase. You don't have to spend a lot of money to look gorgeous and create a few different looks and outfits from just one piece," they said.
One example of this is wearing your kimono with the ends tied up at the waist with a singlet or bralette underneath, depending on how much cleavage you'd like to show. This looks great paired with high-waisted pants or skirts, as pictured here.
As a dress with a belt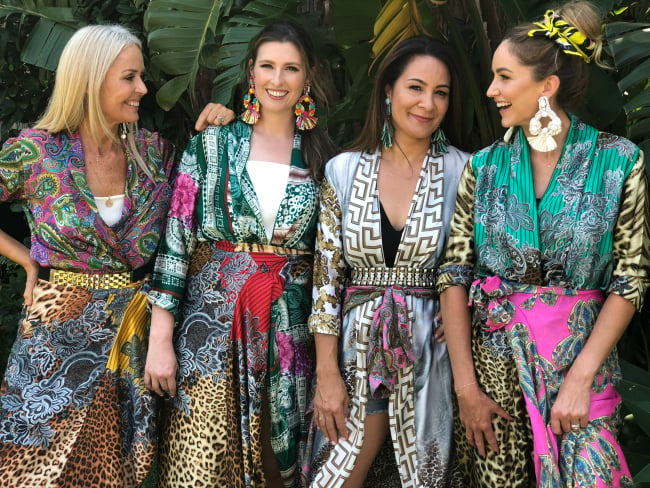 Depending on the amount of material your kimono is made of and your body shape, you can wear your kimono belted in a couple of ways as shown above.
Kimonos can pass for sleek dresses when wrapped across your body and secured with a belt, or be worn as a way to cinch in your waist over a midi-length dress or tailored pants.
Over your swimmers or shorts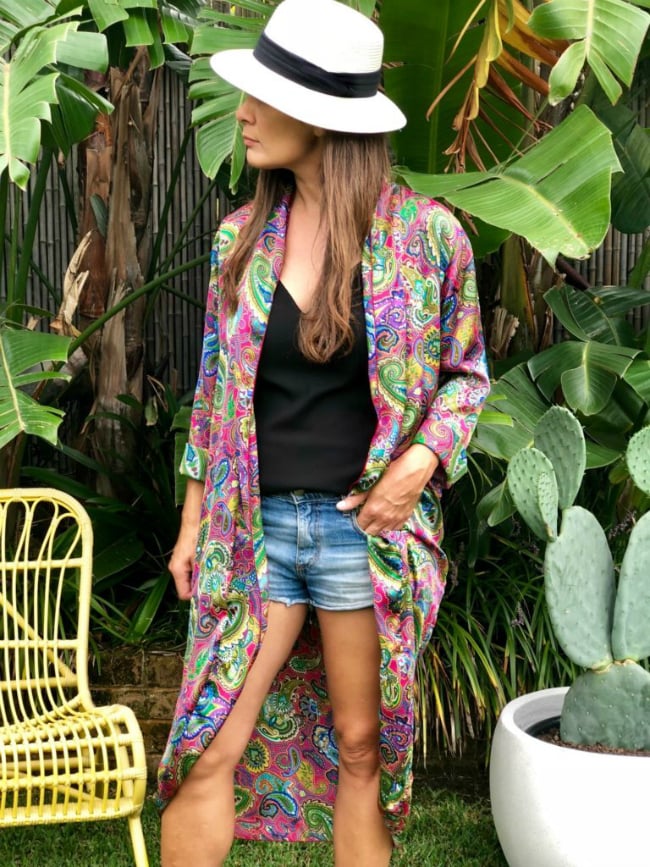 Dan and Mish also pointed out kimonos are possibly the best travel accessory you could ever pack, as they weigh practically nothing, and if they're silk, don't need to be ironed.
They recommend slipping one on or tying the sleeves around your bust to cover up over swimmers at the beach or poolside during the day, or to go from day to night with little to no effort.
As a wrap dress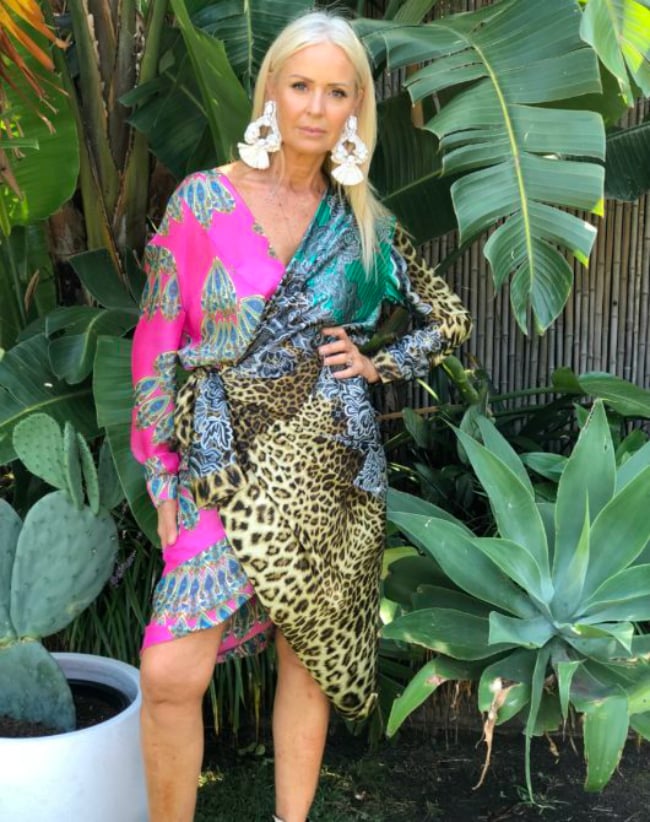 If you've seen these kimono dress hybrids and wondered how your humble kimono could turn into one, turns out there's a trick to it.
"You can even wear two kimonos at once, yes you can! We love layering them up and wearing two at once - one long underneath and one tied as a shirt over the top," Dan and Mish said.
By wearing one back-to-front and the other tied up the side, you can achieve this wrap/maxi dress effect.
As a belt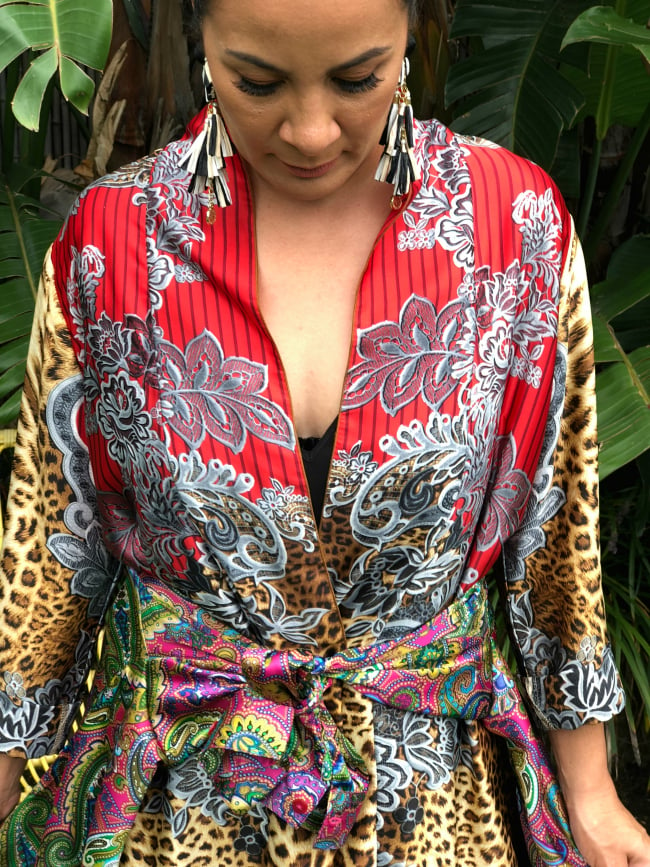 The last stop on today's kimono tour is the belt option. Yep, wearing a kimono as a belt.
Dan and Mish suggested wrapping one around your waist paired with a plain skirt or pants to add colour and movement to your outfit. Or even over over the top of another kimono if you fancy some clashing prints.
Annnnnd quicker than you can respond to all the compliments you're getting on your kimono, you've got several easy, stylish outfits out of one bit of material with arm holes.
Because cost-per-wear.
You can check out more from Dan and Mish, as well as their range of kimonos over at The Style Cantina website and Instagram.
Speaking of fashion, you can get Mia Freedman's interview with US InStyle's Aussie Editor-In-Chief Laura Brown in your ears below.
Want to win some skin care goodies? Like to have your opinion heard? Take our short survey now for your chance to a win a skin care pack.