It's finals time on My Kitchen Rules, but some of the contestants aren't quite coping with the pressure.
After being told they had to recreate one of the other teams' dishes, the remaining contestants got to work cooking up their own versions of the food.
And while tensions were undeniably running high for all of the contestants, there were two teams in particular who buckled under the pressure – Alex and Emily, and Kim and Suong.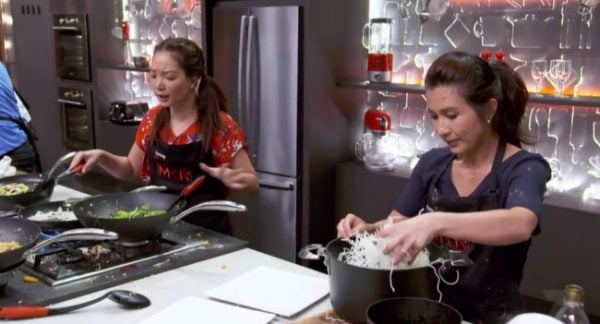 "Calm down, calm down, calm down," Kim repeatedly told a stressed out Suong.
Even the other teams noticed Kim and Suong, both 38, were struggling to pull together on their task.
"Being at Kitchen HQ is just so overwhelming. We're just not working together as a team," Kim told the cameras.
The pair was unusually frazzled, with Suong admitting they were "second-guessing" themselves.
And while Emily was equally stressed out, she and Alex managed to pull it off, landing them in a final cook-off round against Josh and Nic.