It's finals time on My Kitchen Rules, but some of the contestants aren't quite coping with the pressure.
After being told they had to recreate one of the other teams' dishes, the remaining contestants got to work cooking up their own versions of the food.
And while tensions were undeniably running high for all of the contestants, there were two teams in particular who buckled under the pressure – Alex and Emily, and Kim and Suong.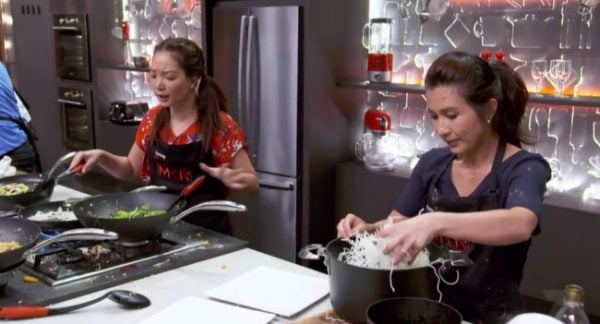 "Calm down, calm down, calm down," Kim repeatedly told a stressed out Suong.
Even the other teams noticed Kim and Suong, both 38, were struggling to pull together on their task.
"Being at Kitchen HQ is just so overwhelming. We're just not working together as a team," Kim told the cameras.
The pair was unusually frazzled, with Suong admitting they were "second-guessing" themselves.
And while Emily was equally stressed out, she and Alex managed to pull it off, landing them in a final cook-off round against Josh and Nic.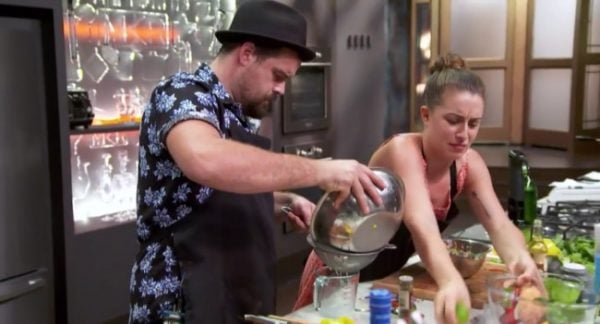 But their excitement at being one of the teams to make it through to the next round was short-lived.
After Alex, 35, told Emily he wasn't a fan of the coriander oil she'd just made, she went into full-on meltdown mode.
"There's definitely not time to work on it," Emily, 27, said. "I don't really know what to do."
What Matt Moran Can't Live Without. Post continues below.
The pair continued, but Emily was becoming more and more visibly agitated by the task.
"I'm just getting really frazzled, because I know we're running out of time," she said.
And then she started taking it out on Alex, who told her, "You need to relax. I've got this."
Ultimately though, it was Josh, 36, and Nic, 33, who won the round with their spatchcock, landing themselves the first spot in the semi finals.
Want to win a $100 gift voucher for telling us what you think? Take our short survey now for your chance to win 1 of 3 $100 gift vouchers.