Content warning: This story deals with the subject of suicide, and will not be appropriate for all readers. 
The story of Dylan Farrow's alleged sexual abuse at the hands of her adoptive father, Woody Allen, in 1992, has hung like a dark cloud in Hollywood for decades.
Farrow, now 32, alleges that on a Tuesday when she was seven, her father molested her in the attic of her mother's Connecticut home. "He instructed me to lay down on my stomach and play with my brother's toy train that was set up," she told CBS This Morning earlier this year. "And he sat behind me in the doorway, and as I played with the toy train, I was sexually assaulted… As a seven-year-old I would say, I would have said he touched my private parts."
Woody Allen was never charged with the crime. Two investigations, one by New York state child welfare and another by the Yale New Haven hospital, concluded that the abuse did not happen. The Connecticut state attorney questioned this finding, but said while he believed there was probable cause to charge Allen, he would not pursue the allegations, in an attempt to protect Dylan from further trauma.
Last week, Moses Farrow, who was 14 at the time of the alleged abuse, and at home with his adoptive sister Dylan the day it reportedly happened, wrote a 4,600 word blog post defending Woody Allen. In a series of bombshell claims, Moses said Woody could not have molested Dylan that day, and that ultimately, he has been "condemned for a crime he did not commit".
I've written this piece about my family, my childhood and the truth about my mother… and I wanted to share it with you. #truthislouder https://t.co/PGzskJ2jyS pic.twitter.com/pLb8htRwgn

— Moses Farrow (@MosesFarrow) May 23, 2018
Telling the story of his childhood in great detail, Moses, who is now 40, accused his mother Mia Farrow of 'coaching' Dylan to speak out against her father. She was angry, Moses claimed, because she had discovered only months earlier that Woody was in a relationship with her 21-year-old adoptive daughter, Soon-Yi.
Beneath this complex web of beliefs and accusations and fractured relationships, however, is a story many of us don't know about the Farrow family. A story of 14 children, 10 adopted, four biological, and three who have died.
Mia Farrow had just turned 25 when she gave birth to twin boys, Matthew and Sascha, in 1970. She was married to composer André Previn, and together, they had another son Fletcher four years later. Mia wouldn't have another biological child until 1987, when she gave birth to Satchel, who later changed his name to Ronan. He is the only biological child of Mia Farrow and Woody Allen.
Over more than two decades, Mia adopted 10 children. For both Mia and her then-husband André, the Vietnam War brought home the "senselessness" of bringing more children into the world when there were so many who needed help. In the 1970s, they adopted Lark and Summer from Vietnam, and when adoptions in Vietnam became no longer possible, they adopted Soon-Yi from Korea. Once her marriage to André ended, Mia adopted two-year-old Moses from Korea in 1980, and two-week old daughter Dylan from Texas in 1985.
In her late 40s, Mia adopted five more children: daughter Tam from Vietnam, who was blind, Kaeli-Shea (who changed her name to Quincy) from a drug-addicted mother, daughter Frankie-Minh who was also from Vietnam and blind, son Isaiah who was a crack-addicted infant, and Gabriel (who changed his name to Thaddeus), who was a paraplegic, from an orphanage in India.
When Minh and Thaddeus joined the family #TBT pic.twitter.com/6T6yX4caYe

— Mia Farrow (@MiaFarrow) July 30, 2015
It's believed Tam was 12 or 13 when she was adopted in 1992, one month after Mia learned of Woody's affair with Soon-Yi. According to a family friend, Tam was very close to her mother - a "devoted daughter" who was "sensitive and smart".
But in March 2000, Tam died at just 21 years old. At the time, a spokeswoman for Mia Farrow said, "Mia's daughter died from heart failure over the weekend. She had a weak heart. She died of cardiac arrest."
Moses Farrow, however, maintains that this isn't the full story.
"Most media sources claim my sister Tam died of 'heart failure' at the age of 21," he wrote in his recent blog post.
"In fact, Tam struggled with depression for much of her life, a situation exacerbated by my mother refusing to get her help, insisting that Tam was just 'moody.' One afternoon in 2000, after one final fight with Mia, which ended with my mother leaving the house, Tam [died by suicide]. My mother would tell others that the [suicide] was accidental, saying that Tam, who was blind, [couldn't see what she was doing]. But Tam had both an ironclad memory and sense of spatial recognition."*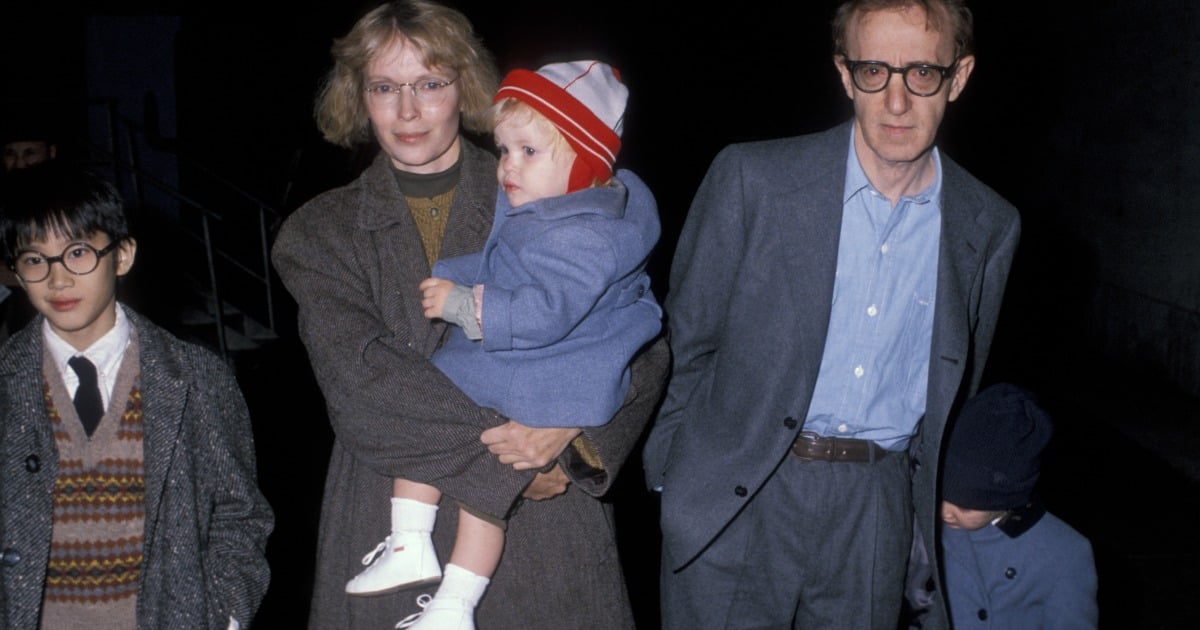 Eight years later, on Christmas Day 2008, Lark died aged 35, leaving behind two daughters of her own. No cause of death was given, but it was reported she had previously been hospitalised for AIDS-related pneumonia.
During a custody battle between Mia Farrow and Woody Allen in 1993, it was claimed that Mia favoured her biological children over her adoptive children. A friend of Woody testified that Lark was seen as a "scullery maid" and "did most of the chores". Mia, it should be noted, retained custody of all her children.
Moses says Lark was "another fatality" of his mother. "[Lark] wound up on a path of self-destruction, struggled with addiction, and eventually died in poverty from AIDS-related causes," he wrote on his blog.
"For all of us, life under my mother's roof was impossible if you didn't do exactly what you were told, no matter how questionable the demand."
In September 2016, Thaddeus died aged 27. While his death was first thought to be an accident, it was later ruled a suicide.
— Mia Farrow (@MiaFarrow) September 22, 2016
Perhaps the most disturbing part of Moses' essay are his claims that his mother was abusive towards her vulnerable children.
"It pains me to recall instances in which I witnessed siblings, some blind or physically disabled, dragged down a flight of stairs to be thrown into a bedroom or a closet, then having the door locked from the outside," Moses wrote on Wednesday. "She even shut my brother Thaddeus, paraplegic from polio, in an outdoor shed overnight as punishment for a minor transgression."
Journalist, lawyer, and brother of Moses, Ronan Farrow, released a statement on Thursday in response to the claims.
All I'm going to say about efforts to deflect from my sister's allegations: pic.twitter.com/IRrj5fzMqV
— Ronan Farrow (@RonanFarrow) May 24, 2018
The same day, Mia said her estranged son's claims were "completely made up."
Now 73, Mia Farrow is an empty nester. All 14 of her children are gone. She's spent the last few years focusing on activism, as a UNICEF ambassador.
In an interview with Vanity Fair in 2013, Mia said she's often plagued by the "what-ifs" of how her life intersected with Woody Allen's. What if he had never entered a relationship with Soon-Yi? What if the alleged abuse against Dylan had never happened?
"How would everyone have turned out—how would everyone be?" she asked.
For her son Fletcher, there were multiple "casualties" of his father's choices. "It had a different impact on everyone, but everyone had a reaction," he said.
"I really do think he's got some blood on his hands."
*Details of suicide method have been removed.
If you or someone you know is struggling with mental illness, please seek professional help and contact Lifeline on 13 11 14, Beyond Blue on 1300 22 4636, MensLine Australia on 1300 78 99 78 or Suicide Call Back Service on 1300 659 467. If someone is in immediate danger, call 000 immediately.