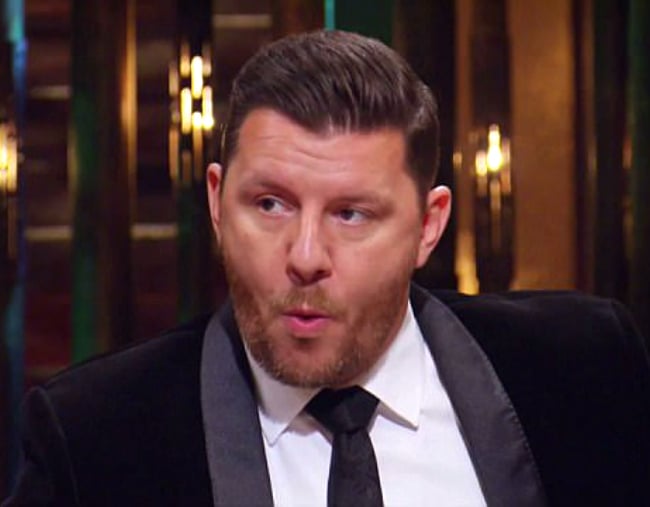 1. Manu Feildel has spoken about the team kicked out of MKR, saying their behaviour was unlike anything he's ever seen.
On what feels like this year's 279th episode of My Kitchen Rules airing on Sunday night, viewers will finally get to see the moment so drama-filled, one team is told to GTFO.
MKR judge Manu Feildel popped by Weekend Sunrise this morning and basically said the scandal between NSW teams Sonya and Hadil, and Jess and Emma is like an inedible hot curry.
"I'e never seen something like that. Never. I hope I never see it again," he said.
"A lot of things happen when we're not at the table – obviously they feel like they're a bit more 'free' we don't know when it started… then suddenly it went too far."
Tensions have reached boiling point on @mykitchenrules this week with a shock exit.

Host and judge @manufeildel takes us behind the scenes of what happened. pic.twitter.com/4BkpRoTTUv

— Sunrise (@sunriseon7) 13 April 2018
Channel 7 have been hinting at this one moment since late last year. Frankly, we didn't think we'd ever see it.
In various promos, Manu can be heard saying: "Things have got too out of hand. This behaviour is unacceptable! (insert french accent). You're excused from the table."
Apparently, we'll also see someone taken away from a dinner party in an ambulance. Heavy stuff.
See ya there tomorrow night. Here's the promo to get you excited.
"Teams ENOUGH..This behaviour is unacceptable!" Which Team will be thrown out? ????#MKR returns Sunday 7.00 on Channel 7 | https://t.co/9JW93l9xyK pic.twitter.com/cx8EyUGOJD

— #MKR (@mykitchenrules) 11 April 2018
2. There are secret "requests" you can make on I'm a Celebrity, according to Vicky Pattison.

We had our suspicions, but it turns out the stars on I'm a Celebrity… Get Me Out of Here! weren't really roughing it after all.
Geordie Shore star Vicky Pattison, who appeared on this year's show, has spoken about what went on behind the scenes of the hit reality series.
Although they were living out in the jungle, Vicky said they could still make requests.
"I come off these shows and everybody goes like, 'Did you get the secret protein shakes?' And I'm like, 'Are you f***ing joking, mate?' And they're like, 'Did you hear about so-and-so and his massages?' And I'm like, 'You're taking the piss?'" she told News.com.au.
The 30-year-old said her biggest demand on the show though was nail glue.
Pattison also said she didn't know any of the celebrities before going into the series on day 17, but did some "research".
"I quickly worked out that I wanted to be friends with Fiona [O'Loughlin]," she said.
And while they weren't allowed to smoke in the jungle, producers did allow them to vape.
"The guys every so often would go and have a vape with some of the anti-poaching guys," she added.
According to Vicky, the biggest offenders were Fiona, Shannon Noll and Simone Holtznagel.
3. Gwyneth Paltrow treats her friends to a "hen weekend" away ahead of her wedding. And there are photos.

If anyone knows how we can get in with Gwyneth Paltrow, please let us know.
The 45-year-old actress treated her close friends to a weekend away at the Four Seasons resort Costa Palmas in Los Cabos, Mexico, ahead of her wedding to Brad Falchuk.
Friends who made the cut for the "hen weekend" apparently included Stella McCartney and Cameron Diaz.
The group is reportedly staying in a beachfront villa, which comes with a private pool and rents for a cool $7000 a night.
Gwyneth first confirmed her engagement to the 47-year-old Glee producer in January this year.
The couple have been dating for four years.
And after eloping with her ex-husband, Chris Martin, Gwyn says she's ready to go the traditional route.
"I've never had a wedding before… So even though I'm 45, I sort of feel like a 21-year-old," she told Goop magazine, as reported by The Fix.
"It's kind of fun to talk about with my girlfriends. They send me pictures of dresses – they're as excited about it as I am."
4. Victoria Beckham became very awkward when asked if she's invited to the royal wedding.

Victoria Beckham may be a lot of things – fashion designer, Spice Girl – but one things she's not is a good liar.
The 43-year-old appeared on The Late Late Show this week, where host James Corden outright asked her if she'd been invited to Prince Harry and Meghan Markle's wedding next month.
"I, uh, I, I don't know," was her response.
Quick, think on your feet, Posh!
Her uneasy reply prompted Corden to assume "she's totally going", which sent Victoria into yet another tailspin.
"Yes. England is so excited. It is so great, isn't it? They look so happy," she added.
Right. See you on May 19 then.
For everything Prince Harry, Meghan Markle and the Royal Wedding, visit our Royal Wedding hub. 
5. The Oceans 8 trailer is here and THERE ARE SO MANY WOMEN.
As if we weren't already peeing a 'lil bit over Ocean's 8, Warner Bros. Pictures dropped a new full trailer overnight featuring all the women.
SO MANY WOMEN.
Watch above and see the sublime talent and badarsery of Sandra Bullock, Cate Blanchett, Anne Hathaway, Mindy Kaling, Sarah Paulson, Awkwafina, Rihanna and Helena Bonham Carter.
Happy Saturday.