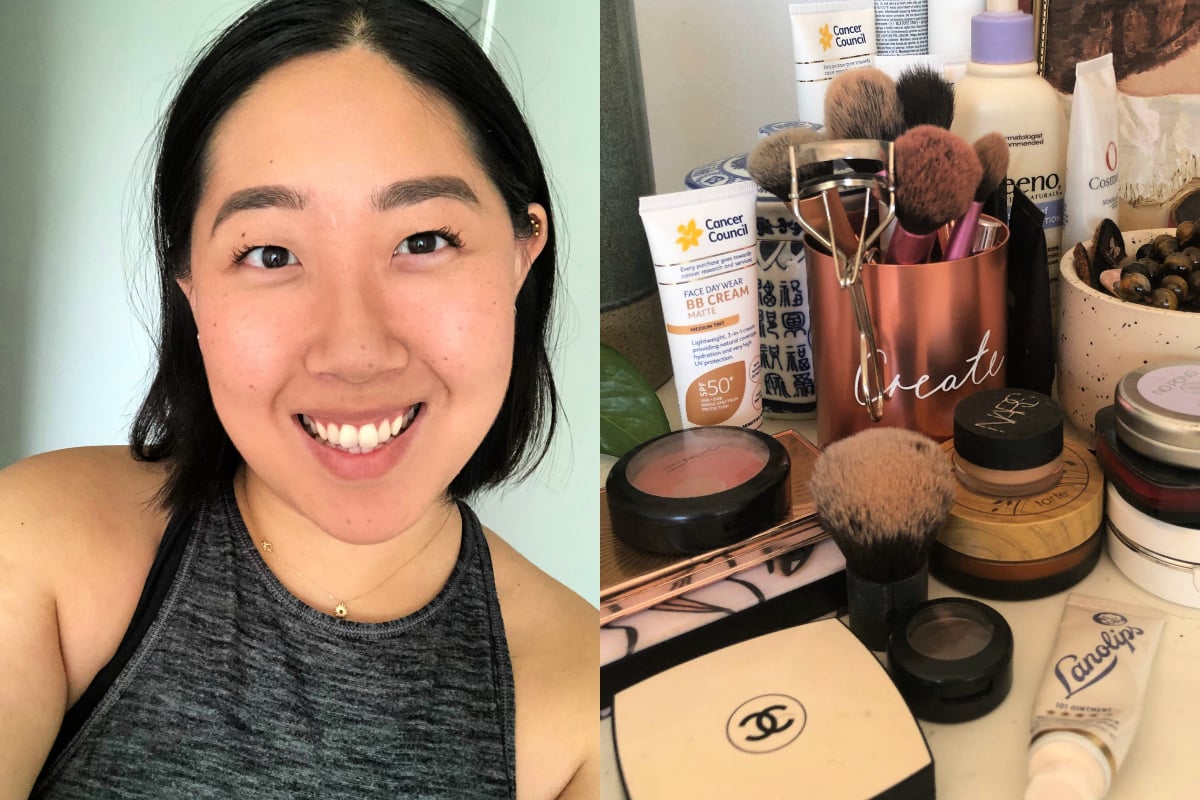 Mamamia's What's In Her Bag series asks Aussie women to give us a look at their everyday beauty routines. Kind of like a sex diary but with beauty. So… not like a sex diary at all. We discover what women are putting on their faces, how much of their hard-earned cash goes towards beauty, and what works for their busy lives. There's no right or wrong, just real beauty from real women. This week, a 24-year-old writer shows us what's in her bag.
Name: Jess.
Age: 24.
Job: Lifestyle writer and editorial assistant.
Biggest skin concern: Dullness, and that wretched 'dry' feeling you get when you don't moisturise enough.
Want more helpful beauty advice? Check out this day to night makeup tutorial below. Post continues after audio.
AM skincare routine.
My skincare (and beauty) ethos is based on Holly Wainwright's 'I don't list' principle. Pretty much, there's a short list of the things I do, and a lot of things I just can't be bothered with because it personally doesn't bring me joy. This includes things like: using more than one serum, face masks, jade rolling and using conditioner on my hair. Granted, I am very lucky to have pretty decent, non-sensitive skin, but I did struggle with cystic clumps of acne at 21.
Rant over, back to skincare. Most days I go a bit heavy with the snooze button so this is the quick five-minute AM routine I've almost perfected.
I start my mornings with a quick cleanse of Avene's Micellar water on a cotton pad, which I rinse off with water. You don't have to, but I don't like the feeling of leaving cleanser on my face. I then pat in five or six drops of Cleau de Peau's Essential Refining Essence, which was a very generous gift from my cousin who lives in Japan and works for the brand, but any sort of mist/essence/hydrating toner would do. I like the Mario Badescu Witch Hazel and Rosewater Toner as well.
For serum, I'm using the NuFace Lifter Infusion Serum, which is expensive but also offers a heavy hit of Vitamin C and hyaluronic acid. It leaves my skin notably brighter and really hydrated and I've been using this bottle for over a year, maybe nearly two. You literally only need three to four drops per application. I also love Avene's DermAbsolu Recontouring Serum and use with the Avene DermAbsolu Refining Day Cream. It's a sumptuous and rich cream that sinks in quickly but leaves your face feeling plump and hydrated. My skin is pretty dehydrated and my pet peeves are moisturisers that 'don't do anything' and seem to disappear second you rub them in. Finally, for SPF, it's a Cancer Council facial sunscreen.