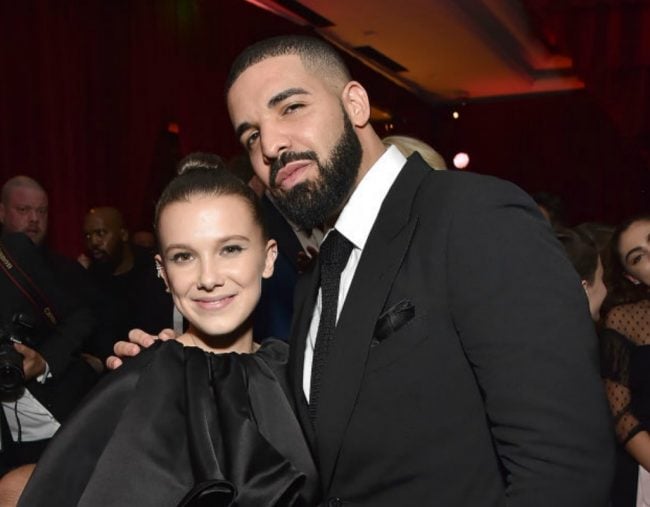 Hollywood is full of unlikely friendships.
We don't know what Martha Stewart and Snoop Dogg would talk about over coffee, but the two have been great friends for years, and even host a cooking show together.
One unlikely Hollywood friendship people have… mixed feelings… about that of Drake and Stranger Things star Millie Bobby Brown.
For five years, people have commented on the strangeness of their relationship and Drake has finally acknowledged it in a new song 'Another Late Night'.
"Weirdos in my comments talkin' 'bout some Millie Bobby, look," he raps in a verse on the song. "Bring them jokes up to the gang, we get to really flockin' / Or send a finger to your mama in some FedEx boxes / Open up that s**t, it's jaw droppin', really shockin'."
For anyone confused, he's saying that speculation about the nature of their friendship is absurd and using Mafia-threatening techniques like sending body parts as a threat towards those who do it.
But, wait, what's the history with Millie Bobby Brown?
In July 2018, Brown told W Magazine they met when Drake invited her to his concert when they were both in Australia.
A then-14-year-old Brown then spoke about him on the red carpet of the 2018 Emmys a couple of months later.
"I love him," she told Access Hollywood.
But that wasn't what people found to be the weird part.
"I met him in Australia, and he's honestly so fantastic — a great friend and a great role model," she said of the then-31-year old rapper.
"We just texted each other the other day, and he was like, 'I miss you so much,' and I was like, 'I miss you more.'"