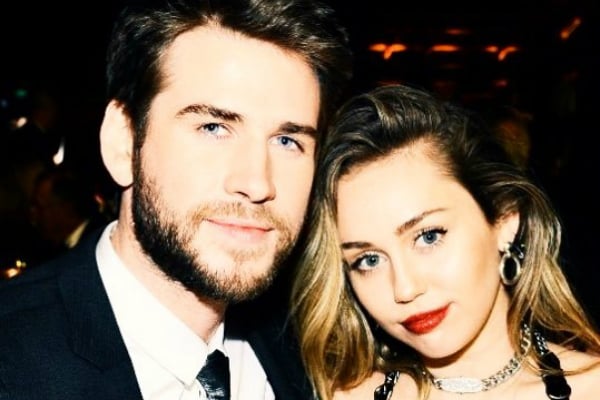 1. Why Miley Ray Hemsworth decided to take her husband's name.
Two months after their Christmas wedding, Liam Hemsworth has shared why his wife Miley Ray Hemsworth (nee Cyrus) decided to take his last name.
The Aussie actor best known for his role in the Hunger Games series (and for being Chris Hemsworth's younger brother) confirmed Miley's new last name on Live with Kelly & Ryan.
"I heard you got married … to one of my favourite people … Miley Cyrus," the show's co-host Kelly Ripa asked the 29-year-old, to which he responded, "Miley Ray Hemsworth now, actually."
You can watch the moment below, post continues after video.
"She'll still be known as Miley Cyrus professionally… I think that was honestly one of the best things about it. I didn't ask her to take my name, but then she's like, 'No, of course I'm taking your name,'" he said.
"I'm like, 'That's awesome. That's really good.'"
The Hemsworths were married at their Tennessee home in December, 2018 in front of a small circle of close family and friends.
The couple met on the set of their movie The Last Song in 2009.
Bless.
2. In 1992, Liam Neeson proposed to Brooke Shields. Then he never called her again.