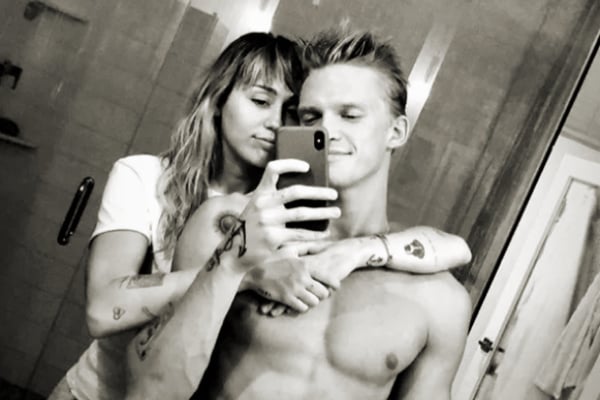 1. "We are very, very happy." Cody Simpson just confirmed his relationship with Miley Cyrus.
If you're Miley Cyrus, Liam Hemsworth or Cody Simpson, you've had a lot going on lately.
To quickly recap: Miley Cyrus and Liam Hemsworth are getting a divorce. Miley has moved on with Aussie singer Cody Simpson, and Liam was spotted holding hands with Aussie actress Maddison Brown.
SO. MUCH. AUSSIE-NESS.
Wait, backtrack. Miley first moved on with Brody Jenner's ex-wife Kaitlynn Carter, but they only lasted for a hot minute before she was papped making out with Cody over an acai bowl in LA last week.
Now we're all up to date, the latest news is that Cody himself has confirmed his relationship with Miley.
Speaking to PEOPLE, the 22-year-old said he is "very happy" with his 26-year-old girlfriend.
You can also listen to The Spill podcast give their take on the unlikely pairing of Miley Cyrus and Cody Simpson below. Post continues after audio.
"I'm very happy. We are very, very happy. She's creative. She's very passionate about what she does, and I'm very similar in that sense.
"That's why we get along so well. We just have a ball, yeah, and that's the most important part of a relationship, you know?"
He also spoke about how in the heck he and Miley came to be an item. Turns out, they're both in a really good place right now, ya feel?
Cody added, "The reason why it hasn't been a really crazy sudden thing is just because we've been friends for so long. We found each other again in a space where we're both not partying, working real hard, and it just keeps things healthy and it's good."
Stay tuned for further Miley-related updates, because you know there will be more coming.
2. "I've struggled with mental health my entire life." Ruby Rose opens up about her battle with depression.
To mark World Mental Health Day, Ruby Rose has opened up to fans on Instagram about her long struggle with her mental health.
The 33-year-old Orange Is the New Black star shared that she was diagnosed with depression at 13-years-old, major depressive disorder at 16 and dissociative amnesia at 18-years-old.
"I had a few years entirely erased from my memory… I found out I went from a smiling, laughing child to a quiet mute who sat alone and stared off to the distance during recess after one of many traumatic events that I didn't remember."