1. Michelle Williams sent her best friend Busy Philipps a terrifying gift to help her feel better.
My BFF sent me a card board cut out of herself to cheer me up post surgery and it is both hilarious and terrifying. ???????????? pic.twitter.com/TdrDSlgQpd

— Busy Philipps (@BusyPhilipps) May 24, 2018

Busy Philipps just underwent surgery for sinus issues, so her best friend Michelle Williams is making sure she's there (kinda) to keep Philipps company.
Although she may not actually be able to be by her bedside, she's taking the phrase 'I'm there in spirit' to a whole new level.
"My BFF sent me a card board cut out of herself to cheer me up post surgery and it is both hilarious and terrifying" the actress shared on her Twitter.
If the point of this hilarious gift was to keep Philipps from feeling down post surgery, it looks like she certainly achieved it!
2. Victoria Beckham has some thoughts about Meghan Markle's Wedding Dress.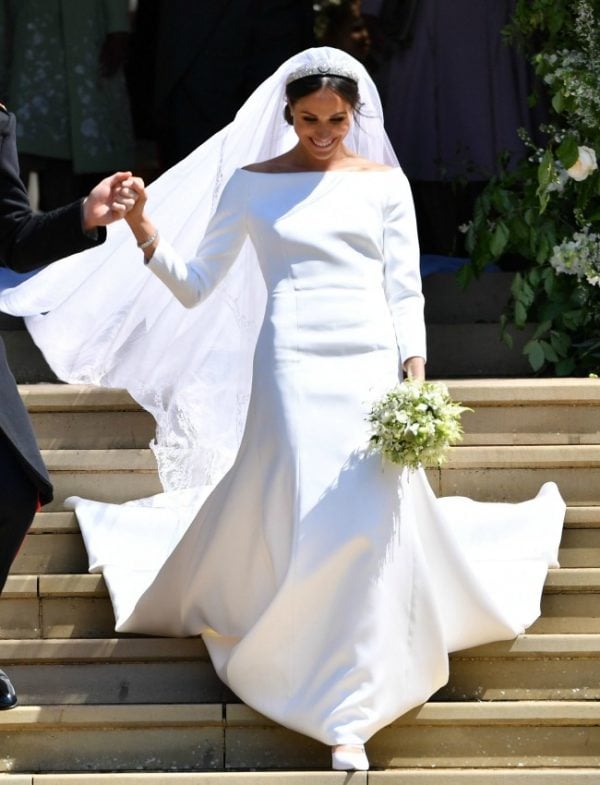 Some celebrities, *cough, Katy Perry*, haven't had the nicest of things to say about Meghan Markle's wedding dress.
But Victoria Beckham, who attended the wedding last Saturday and saw it in person, isn't one of them!
Whilst Katy Perry said Meghan Markle should "have done one more fitting", Beckham complimented the Duchess of Sussex saying the dress "really suited her."
"I thought it was perfect for her. And Harry looked great" the designer told Evening Standard. 
And so say all of us!
"It was such a beautiful, incredible wedding" Beckham continued. "It was just the best day
"They looked so happy, and everybody was just so happy for them. Meghan seems like a genuinely lovely woman, who really loves him. It felt very real, very honest."
Nawwww.
3. The Bachelor's Noni Janur says women are constantly trying to steal her model boyfriend Sam Johnston.
Don't you just hate it when other women try and steal your partner? It's hard work having a really attractive significant other, isn't it?
You're not alone. The Bachelor's Noni Janur feels your pain.
In an interview with Popsugar, the 27-year-old from Rich Strahan's 2016 season of The Bachelor said keeping women away from her fellow Bachelor franchise contestant boyfriend Samuel Johnston is practically a full time job.
The couple are currently in a long-distance relationship - he's in LA and she's in Australia. One of the biggest obstacles of being so far apart is trusting your partner when he's receiving Instagram messages from multiple interested parties.
"He has a number of girls messaging him," Noni said.
So how do they make it work? Trust, of course.
"I get just as many messages as he does, but we trust each other and don't get jealous."
Words to live by.
4. Gwyneth Paltrow has finally explained why she never ended up marrying Ben Affleck.
Gwenyth Paltrow is sharing how she knew Ben Affleck, who she dated for three years from 1997 to 2000, wasn't the one.
Speaking to Howard Stern on SiriusXM, the founder of Goop said, "It's interesting. I think there's certain boyfriends where you are trying to work stuff out, right? Like, you're trying to heal certain stuff from your childhood and he was very much a lesson in that way.
"I'm not sure exactly what I was trying to heal in that instance, but it was … he was, you know. It was specific."
The former actress previously said to Stern about Affleck, he "was not in a good place in his life to have a girlfriend."
She is now engaged to Brad Falchuck, who is a producer of American Horror Story.
5. Why was Camilla Parker Bowles even at Prince Charles and Princess Diana's wedding?
It's always a little bit awkward when your ex shows up at your wedding.
For example, Prince Harry's ex Chelsy Davy's face at the royal wedding was so memorable, it got made into a viral meme.
But years before Harry married Meghan Markle, Camilla did the same thing at Prince Charles and Princess Diana's wedding.
So, why the hell was Camilla actually there in the first place?
Camilla's then-husband, Andrew Parker Bowles, was the Commanding Officer of the Household Cavalry Mounted Regiment, meaning he was the guy overseeing the ceremonial escort that led the newlyweds' carriage ride through London. So, he was basically working at the wedding.
There is, however, more to this juicy story. For al the details, read the full story on Camilla's attendance at Charles and Diana's wedding here.