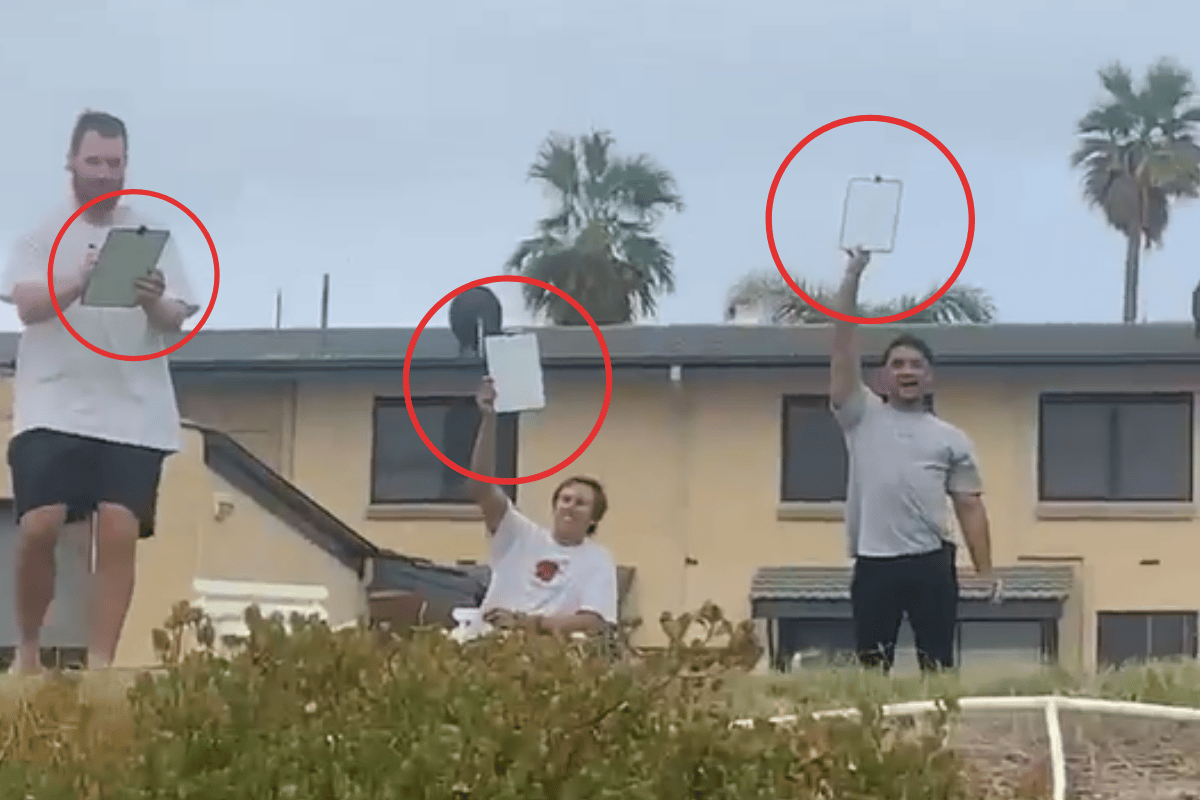 I was on my phone, scrolling away blissfully, when I came across a video. A video that made my skin crawl. 
I felt angry. I felt hurt for the woman who had filmed the video. But I also felt defeated.
The video shows three young men at a popular beach in Scarborough, Perth on Saturday. Each of the men are holding whiteboards, readily scribbling down numbers when women walk past them. And when satisfied with their choice, they thrust the whiteboard into the air and declare that the woman currently walking past them is representative of that number out of ten. 
Are men really still rating women? It appears so.
Elizabeth, the woman who filmed the video - who must be credited for her courage and determination - is given a 'rating' both verbally by the men and via their scorecards.
She calls out to them and cries: "Do you know how uncomfortable that makes people feel? Do your workplaces and families mind sexists?"
Their response:
"Yeah the boys. Yeah sexism. I'm a feminist."
You can watch the video being discussed here. Post continues below.
Video via ABC Perth.
For those who have seen the video or are only hearing about it as you read this article, I can imagine you would be feeling pretty disgusted by this. There has been an outpouring of criticism for the actions of these men, and rightly so. 
And yet, examples like this one are not isolated at all.
Just last year, boys at a Northern Beaches Anglican school took part in a "build a b*tch" classroom activity, where the male students were told by a teacher to use a points system to choose the qualities they wanted in an "ideal girl".
More points were allocated for girls who were "good looking/attractive", "virgins", "physically fit" and had "good pedigree", just to name a few. And yes, you read that correctly: pedigree. As if picking a girl to be your partner is at all synonymous with a dog. 
What was at the lower end of the points system you may ask? "Sincerity", "generosity", "cares for the world", "socially competent" and "similar beliefs". Because of course a woman's best features are her looks, not her brains. 
Listen to Mamamia Out Loud: One school's 'build a b*tch' list. Post continues after audio.
We have also seen the archaic practice of rating play out on national television on Married At First Sight. 
Each season we have seen the couples rank one another as part of a 'relationship experiment' set by the 'experts'. And every year it involves a woman being picked apart, solely based on her looks.