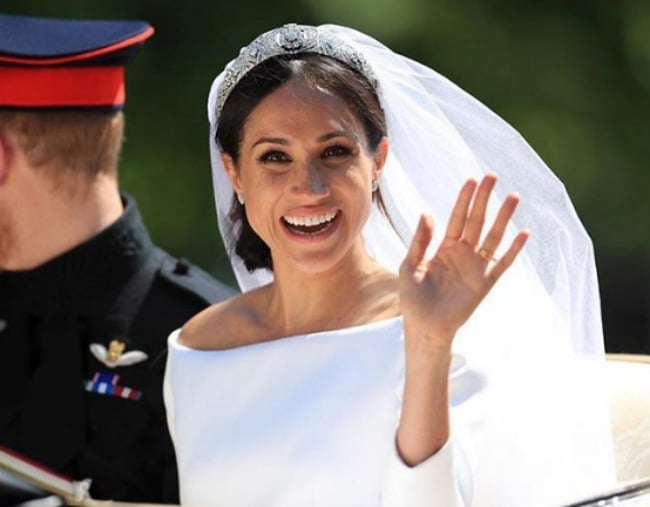 Ever since she blew up our radar with her relationship with Prince Harry, Meghan Markle has become a bit of a style icon.
Let's face it – her sleek, elegant and modern ensembles have incited a little bit of wardrobe envy in all of us.
But according to a report by the Mirror, there's actually more to her clothing choices than meets the eye.
It turns out all of the outfits the 36-year-old has stepped out in for public events since her wedding to Prince Harry, 33, last month have been created by female designers. Yes, all of them.
And it started with her wedding on May 19.
Meghan walked down the aisle in a simple yet classic white gown designed by Clare Waight Keller, the first female artistic director for Givenchy.
Later, she changed into a slinky white dress for the reception, designed by Stella McCartney.
Are you sensing a theme here?
Since her wedding, she's worn outfits by Goat – a British fashion label run by mum-of-three Jane Lewis – Caroline Herrera, and Prada, whose head designer is Miuccia Prada.
According to the Mirror, it's Meghan's subtle way of supporting women and giving her fellow sisters a nod.
It certainly seems like that's what she's doing, anyway.
Despite the royal family being notoriously private about their opinions and where they stand on things politically, Meghan's official biography on The Royal Family website quotes her as being a feminist.
"I am proud to be a woman and a feminist," she said.
And it's not just a recent development either.
Meghan first stood up for women when she was just a child, protesting a sexist ad for dishwashing liquid on TV.
"My 11-year-old self worked out that if I really wanted someone to hear, well then, I should write a letter to the First Lady. So off I went scribbling away to our First Lady at the time, Hillary Clinton," she recounted at a United Nations Women's event in 2015, as reported by NBC Los Angeles.
The royal family had better lock down their fine china, because Meghan's about to shake things up.