Yes, you might have been squeezed between a boozy aunt and a forgetful uncle during Christmas lunch, but there's one thing to be thankful for (besides the rum balls): At least you weren't debuting a curtsy to the Queen of England.
It was Meghan Markle's first Christmas with the royal family, after Prince Harry proposed in November.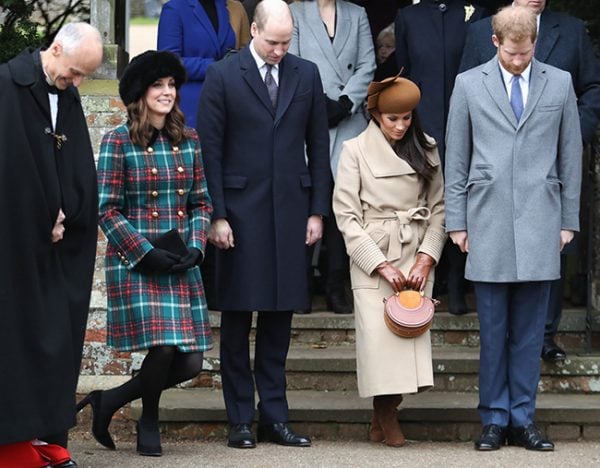 The 36-year-old attended church services on Monday alongside Queen Elizabeth and, outside the Church of St Mary Magdalene, curtseyed as Her Majesty departed.
Markle's soon-to-be sister-in-law Catherine, Duchess of Cambridge, led the way with a graceful curtsy. Markle was a little shy in comparison, and hers was a quick bop.
The video of the family leaving the church, as published by Daily Mail, shows Markle walking and talking with Prince Harry, Prince William and Kate Middleton before the big debut.
LISTEN: What are the ins and outs of Meghan Markle's first Royal Christmas? Post continues after audio.
The Duchess of Cambridge can be seen talking Markle through the curtsy and Prince William seems to be offering encouragement.
Prince Harry provides some words of support as Markle clutches his arm and nods her head with a nervous "yes" and a shy smile.
She looks to Kate directly before the curtsy, taking cue from the Duchess - her ally as a newcomer to the royal family.
In Markle's first curtsy to the Queen, with the whole world watching, she was coached by the best.
So who curtsies to who? This is mandated by the Queen, who sets the Order of Precedence in the Royal Household, The Telegraph reports.
According to etiquette expert Myka Meier who spoke to People, Markle is required to curtsy to Prince Philip, Prince Charles, and Camilla the Duchess of Cornwall.
The length and depth of the curtsy matters - the longer and deeper it is, the more respect that is shown.
Markle put her left foot behind her right and ducked her head as the Queen left. Prince Harry and Prince William bowed their heads also.
It's one of many milestones for the soon-to-be royal and it must have been a tiny bit terrifying. It makes our Christmas morning seem positively breezy. 
In 2018 Mamamia is launching a new community called Ladystartups for women who work for themselves or dream of doing so some day. We're already on Instagram (come join us @ladystartups) and we have big plans to help women grow their businesses, turn your side hustle into a full time gig or empower you to pursue your dream. Tell us what you want and need from us by taking this five minute survey and register at ladystartups.com to be the first to be updated when we launch.