For everything Prince Harry, Meghan Markle and the royal wedding in one convenient place, visit our Royal Wedding hub.
The royal wedding may be over, but the internet's obsession with Meghan Markle definitely isn't.
An old talk-show interview on Craig Ferguson's now defunct US Late Late Show in 2013 has resurfaced, and it's equal parts endearing and uncomfortable.
That is, Markle providing the endearing bits, and Ferguson taking the reins for the uncomfortable stuff.
At the time the interview aired, long before she was a Duchess, Markle was two years into American TV show Suits and in the process of settling her divorce from her first husband, producer Trevor Engelson.
Markle explained the plot of legal drama Suits and spoke about her character Rachel Zane after Ferguson, a persistent and awkward flirter, confessed he had never seen the show.
The 36-year-old also spoke about her studies at Northwestern, where she studied theatre and international relations and her previous jobs, including one at the US Embassy in Buenos Aires.
"I studied French for eight years and now it's deplorable," she told Ferguson. "I can't remember anything."
Markle also spoke about her upbringing, telling Ferguson that she was born and raised in Los Angeles.
When Ferguson sounded surprised at her upbringing she added, "Yes, I'm one of the five, you can pinch me I'm real, see?"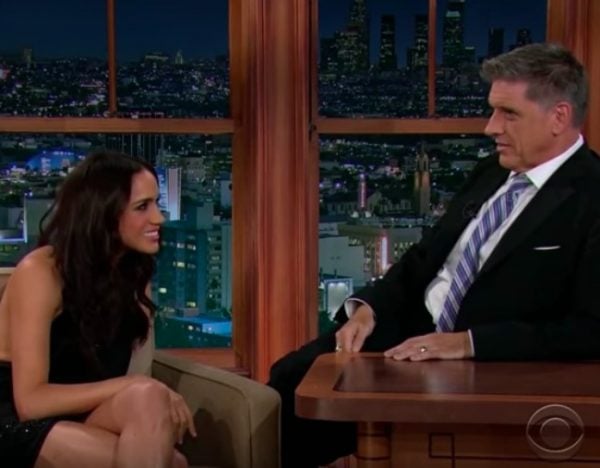 Now, this is where some viewers say the interview got weird – after leaning over to pinch her, Ferguson commented on Markle's body.
"Strangely hairless body you have. You're quite the dolphin aren't you?" he said. "You're absolutely hair-free."
Ferguson took the conversation about "hairless bodies" even further, sharing a story about being snowed in and deciding to shave his entire body.
Yep...
After Markle reminisced on growing up on the set of the sitcom Married... With Children, where she went every day after school for 10 years because her father worked on the show, things got even stranger.
"It's a very perverse place for a little girl who went to Catholic school, no less, to grow up, right? Because I'm there in my school uniform," she said.
Immediately, Markle is cut off by Ferguson's awkward growl "Ohhhhh, yeah," before claiming he was just joking.
You can watch the full interview with Craig Ferguson from 2013 here:
Want to win a $100 gift voucher for telling us what you think? Take our short survey now for your chance to win 1 of 3 $100 gift vouchers.