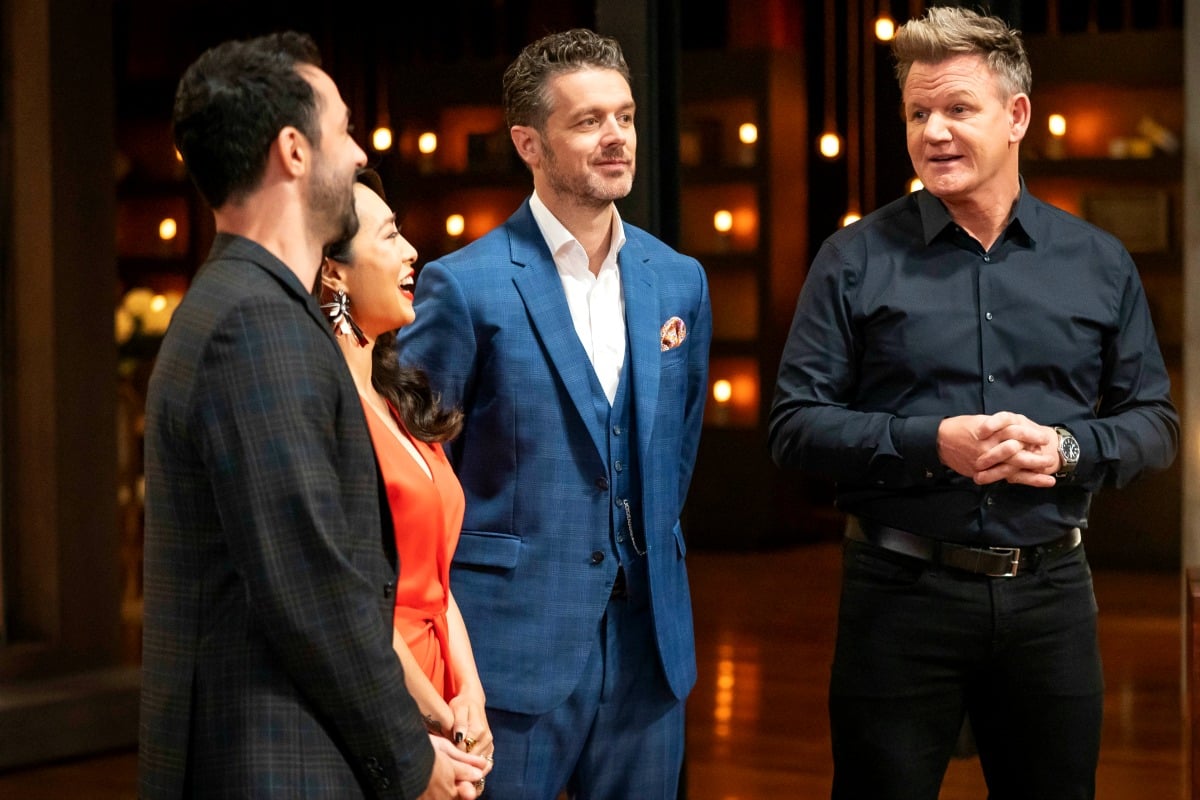 To catch up on all things MasterChef Australia 2020, make sure you check out our MasterChef hub. We've got you completely covered.
When I first stepped onto the MasterChef Australia set earlier this year, there were three things I noticed immediately.
That the set, an elaborate kitchen surrounded by an intricate labyrinth of supply rooms and pantries, was even more immense than it ever looks on TV.
That the contestants who were hurriedly stirring, chopping and sauteeing while a web of cameras swirled around them were not fresh faces to the game, instead, they were the biggest names from past seasons, skilled contestants who had just missed out on the MasterChef crown and were now secretly filming their second shot.
Lastly, that the new MasterChef judges Andy Allen, Jock Zonfrillo and Melissa Leong, who was calling out that time was nearly up while striding across the set in a pair of striking, glittering green high heels, had already found their groove in this newly revamped version of the hit show.
Of course, things on the 2020 MasterChef set have changed since those initial days of filming, with the introduction of COVID-19 restrictions
"MasterChef Australia has always employed the highest standards of food safety and hygiene," an Endemol Shine Australia spokesperson told Mamamia. "We now have an even keener focus on that. All recommendations outlined by Federal and State government health authorities are being followed.
"Under the current circumstances, we are introducing new measures for the foreseeable future. These include, but are not limited to social distancing measures across every facet of the production and additional hand sanitising stations positioned around the set and offices.
"On the set, changes will be made to the spacing of contestant cooking benches and gloves provided for team challenges where equipment may be shared, as well as when handling food in the pantry. Additional sinks have been added as dedicated handwashing stations, so as to separate from any food preparation.
"Judges will step up to taste individually portioned meals and no cutlery or plates will be shared."
All eyes have been on the inner workings of MasterChef since July 2019, when a statement from Network Ten was distributed to media across Australia announced that founding MasterChef judges Matt Preston, Gary Mehigan and George Calombaris had been "unable to reach an agreement" with the network, despite months of negotiation, and would be leaving the show after 11 seasons.
Weeks later, it was announced that MasterChef Australia season four winner Andy Allen, chef and restaurateur Jock Zonfrillo, and food writer and television presenter Melissa Leong, were being charged with helming this new season.