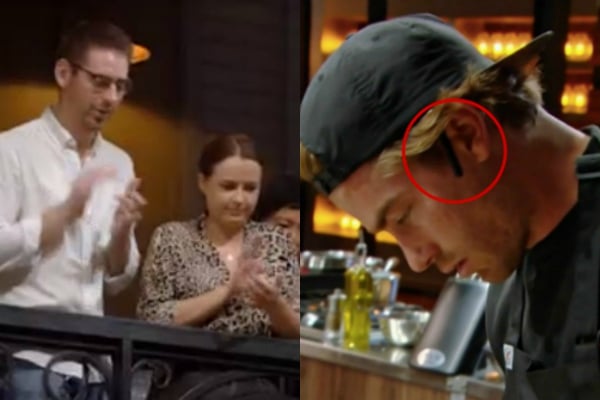 To catch up on all things MasterChef Australia 2020, make sure you check out our MasterChef hub. We've got you completely covered.
Warning: This post contains spoilers for MasterChef 2020. 
For the past five weeks, MasterChef has been blasting into lounge rooms all over the country.
Seeing our favourites back in the kitchen competing for the title is exactly the wholesome content we need right now.
But just like other reality TV shows, MasterChef is not immune to editing fails.
If you're not watching MasterChef: Back to Win, here's what you're missing out on. Post continues below.
From a fake 'earpiece' to multiple missing contestant, little things can often go unnoticed in the editing process. But thanks to some keen-eyed viewers, we've been able to spot these not-so-subtle mistakes.
Here are six of the biggest editing blunders so far on this season of MasterChef.
Reynold and Jess vanished.
On Tuesday night we watched an all-important elimination, but it seems two contestants weren't actually… there.
Contestants tasked with making a dessert were sent to the kitchen, while those not involved in the challenge watched on from the gantry, but Jess Liemantara and Reynold Poernomo were absent from both.
It's especially weird, since dessert king Reynold would have loved the challenge.
Reynold goes missing.
On last Sunday's episode, we watched as Hayden Quinn was sadly eliminated from the competition. But when it came time to say goodbye, fans noticed one contestant was missing.
Despite appearing earlier in the episode, Reynold was very clearly absent for Hayden's farewell.