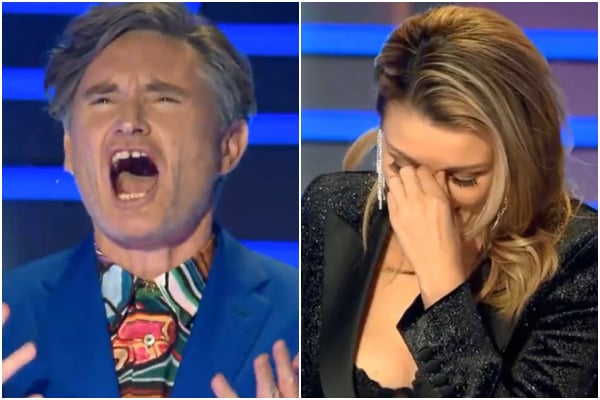 We're four episodes into The Masked Singer, and many things have become evident.
First, it's clear that Australian reality TV standards are not as high as we thought they were, which is… fine.
Second, it's surprisingly difficult to identify a celebrity solely based on their voice.
But even still, we need to talk about some of the guesses put forward by the judges – Dave Hughes, Jackie O, Dannii Minogue and Lindsay Lohan. Lindsay has an excuse. The majority of The Masked Singer budget went towards securing her for the show, and as a result Channel 10 can now only afford domestic celebrities – none of whom she's ever heard of. This means she keeps guessing people like Usher which is awkward for all of us.
But Jackie, Dannii and Dave have no such excuse. They know a) local celebrities, b) the nature of Australian television, and c) the reality of Channel 10's budget.
SO WHY THE RIDICULOUS GUESSES.
Watch Nikki Webster get unmasked as the Alien on The Masked Singer. Post continues below.
For example, Shania Twain, Lewis Hamilton, Charlie Sheen and Ed Sheeran are most definitely not on the show.
The guesses are so bad, it's almost seeming as though the judges serve no real purpose…
Behold, some of the worst guesses so far:
Shakira – Jackie O
No Jackie, no.
Think for a moment:
A titan of Latin Pop.
A multi Grammy Award winner.
A six-time Guinness World Record holder