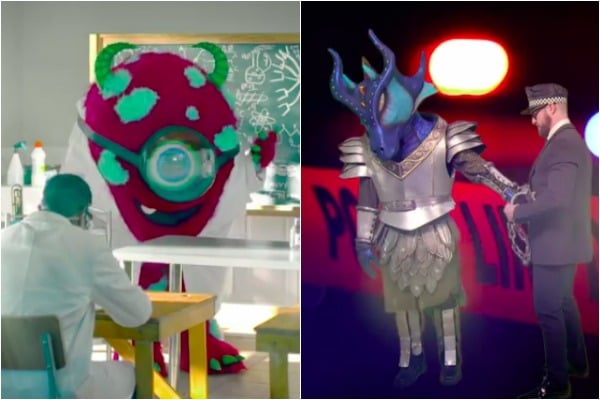 Here we go again – another night, another crop of mythical creatures and creepy crawlies to unmask. What a time to be alive.
Last night on The Masked Singer Australia, Rhino was revealed as Wendell Sailor, which three out of the five judges (yes, apparently we have five now) managed to guess.
So far we've had two sports stars, a TV host and a former child star. This show is wild.
Here's Wendell getting unmasked. Post continues after video.
We've sifted through all of the clues for you from last night's episode.
You're welcome.
Spider
Spider claims to be exotic and puts her pants on "four legs at a time".
Music has always been important to Spider, with a visual clue dropped showing Spider in a kitchen, with two pictures sitting on the table – Jennifer Aniston and the Pope.
Spider is then shown working out with dumbbells stating, "I have to exercise muscles that other people don't have to even think about. If I don't I feel flat all day".
The visual clues continue with a fire breaking out in the kitchen, and a security guard being carried from the scene. "If you can't stand the heat call a fireman, but don't burn," Spider says in the voiceover.
Last night, Spider sang It's a Long Way to the Top by ACDC, after last week's showstopper Toxic by Britney Spears.