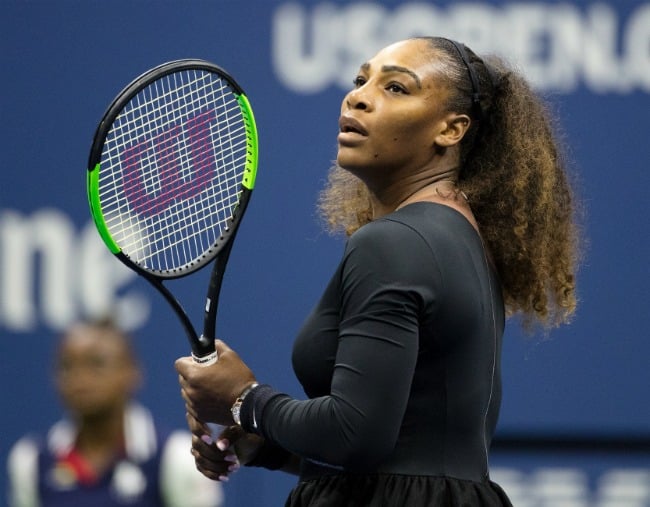 The illustrator behind a cartoon of Serena Williams during the US Open women's final has defended his drawing after it was labelled "racist".
Mark Knight's cartoon, which appeared in the Herald Sun on Monday, has attracted criticism the world over since Knight tweeted it out to followers the same day.
Here's the cartoon:
My toon in today's @theheraldsun on #SerenaWilliams @usopen pic.twitter.com/didwtQg1R5

— Mark Knight (@Knightcartoons) September 10, 2018
Many have accused Knight of creating both a "racist" and "sexist" depiction of not only Serena Williams, but also her opponent Naomi Osaka.
The cartoon of an exaggerated Williams destroying a racqet with a dummy on the ground, referencing her three controversial violations during the match on Saturday, also appears to have cast her dark-skinned Japan-born opponent as a blonde, white woman.
On Twitter, critics did not hold back in sharing their disgust.
Thank you for this cartoon. I will be sure to use it when I write about how Black women are treated and characterized for speaking up for themselves. The way you have drawn both women speaks volumes about who you are and how you feel about Black women. Shame.

— Hannah Drake (@HannahDrake628) September 10, 2018
Whatever you think of the Serena Williams situation, I think we can all agree that this cartoon is disgusting. Erasing Naomi Osaka's blackness alongside a grossly racialised caricature of Serena, invoking racist stereotypes, is obscene. https://t.co/Z09T7rt5tt

— Anna Kessel (@Anna_Kessel) September 10, 2018
1. #SerenaWilliams does not look like this.
(Serena is beautiful)

2. @SerenaWilliams did not act like this.
(Serena stood up for herself)

3. @Naomi_Osaka_ does not look like this.
(Naomi is not blonde or white)

This is the most racist and sexist cartoon that I have ever seen. https://t.co/qlIi59rAL8

— Ryan Knight ???? (@ProudResister) September 10, 2018
Even author JK Rowling weighed in.
Well done on reducing one of the greatest sportswomen alive to racist and sexist tropes and turning a second great sportswoman into a faceless prop. https://t.co/YOxVMuTXEC

— J.K. Rowling (@jk_rowling) September 10, 2018
Others went further, suggesting Knight had intentionally drawn Serena in the style of a historically racist 'Sambo' figure.
This vile cartoon depicts Serena Williams in the horrific, appallingly racist, Sambo fashion that was part of an aggressive resistance to the equal treatment of African Americans.

As @loumoore12 notes, these Sambo caricatures were so offensive they no longer appear in US papers. https://t.co/3P1TkHcTfE

— Matthew Klugman (@Raw_Toast) September 10, 2018
Mark Knight has defended his portrayal of Serena Williams in an article that appeared on the Herald Sun's website on Tuesday morning.
Knight said he was "amazed" by the reaction to his cartoon, adding "the world has just gone crazy".
"I drew this cartoon Sunday night after seeing the US Open final, and seeing the world's best tennis player have a tantrum and thought that was interesting," he said.
"The cartoon about Serena is about her poor behaviour on the day, not about race.
Earlier on Twitter, he pointed to a cartoon he drew of Australian player Nick Kyrgios as evidence that he wasn't being sexist.
Well Julie here's a cartoon I drew a few days before when Australian male tennis player Kyrgios at the US Open was behaving badly. Don't bring gender into it when it's all about behaviour. I'll accept your apology in writing???? pic.twitter.com/NLV0AjPGsY

— Mark Knight (@Knightcartoons) September 10, 2018
Herald Sun editor Damon Johnston on Tuesday defended his paper's cartoonist.
"A champion tennis player had a mega tantrum on the world stage, and Mark's cartoon depicted that.
"It had nothing to do with gender or race."
What do you think? Was Mark Knight's cartoon racist, sexist, or an overreaction?