1. Married At First Sight's Matty just took a dig at Tracey and ooooooh my god.
Now on the precipice of the finale of Married At First Sight, after last night's horrifyingly glorious dinner party, Matty Lockett has shown his true feelings towards the Tracey and Sean debacle.
The ex-groom of Alycia remained hush at last night's reunion but has now shared a particularly biting photo on his Instagram.
A recap for those left out in the dark – Tracey and Sean surprised the other contestants with their new flourishing relationships and everybody was more or less supportive, however now that Matty has had some time to think about it, he has some different thoughts.
The plumber finished off his Instagram with #ithinktraceygotofflightly, an arguable fair call considering the fact that she was the woman scorned after the Davina and Dean debacle, and then kinda ran off with someone else's husband too?
But since both parties were technically single after the final commitment ceremony, is Tracey and Sean's surreptitious get-together all kosher?
Hmmm, we're still thinking about that one.
2. So, will Meghan Markle and Prince Harry have a prenup?

With the royal wedding only a few months away and suddenly creeping up on us – we love the royal fluff – there's been an underlying question that everyone has at least thought of once.
Will Prince Harry and actress Meghan Markle have a prenup before their wedding this year on May 19? I mean, Prince Harry is a royal and 36-year-old Markle is a successful actress. It's fair to say they both have a lot of assets.
But the simple answer: no.
And the reason is just as simple – prenups aren't really a common thing in the U.K.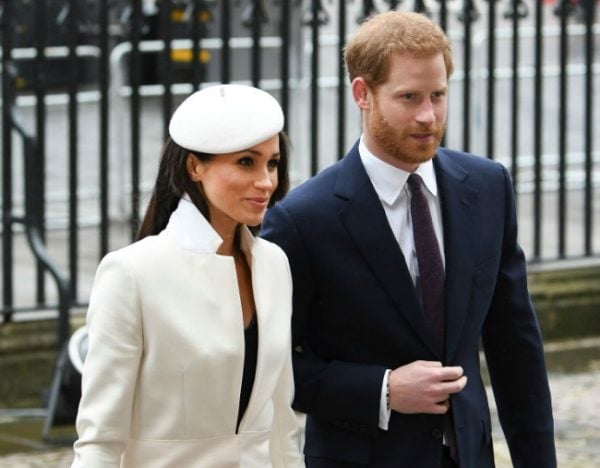 "Historically, members of the royal family have not had them," royal author Ingrid Seward told PEOPLE. "They are more popular in the United States —it's just not a British thing."
In addition, British judges will take prenups into consideration, but they don't hold anywhere near as much weight as they do in America.
Let's think about (and envy) how rich in assets these two are for a moment, shall we? *Cue tears*
With Markle's seven seasons on Suits and Prince Harry being a royal, with a trust from his late mother Princess Diana, it wouldn't be the most ridiculous idea to get one. Plus, they live rent-free in a cottage on the Kensington grounds. It isn't like they have bills to pay.
And the royal wedding countdown is ON.
So it turns out that Meghan Markle had to go to 'kidnapping training' to qualify as a princess and we need to talk about it. Post continues after audio.

3. Pop star Dua Lipa just smacked down Richard Wilkins: "If you were a good journalist you would've done proper research."
So in case you're not exactly on top of the comings and goings of pop star touring schedules, singer Dua Lipa has been out of action due to requiring emergency surgery to remove her wisdom teeth.
Unfortunately for fans, this meant that she had to cancel some of her support slots with Bruno Mars, who is on the Aussie leg of his 24K Magic World Tour.
While she was back on stage at yesterday's Sydney show, Today Show reporter Richard Wilkinson made a bit of a gaff this morning and accused Dua of faking her illness in order to before on Jimmy Kimmel Live!
Which as the name states, is taped live.
"Well get this - she was supposed to be in Australia opening up for Bruno Mars at his 24 Karat world tour, and had to cancel due to having her wisdom teeth out," he said.
"But here she is on Jimmy Kimmel Live!"
Unfortunately this wasn't exactly correct and her performance on Jimmy Kimmel Live! was indeed pre-filmed.
Dua called Richard out over Twitter - which is the website of media corrections du jour for celebrity folk:
Lol @RichardWilkins if you were a good journalist you would've done proper research instead of talking out of your ass. Jimmy Kimmel was shot in Feb in La and aired yesterday. I've been in Australia on bed rest and wouldn'tve cancelled my Bruno shows if I didn't have to. @9NowAU pic.twitter.com/B991bDQkUs

— DUA LIPA (@DUALIPA) March 21, 2018
... oops?
4. At 5:24am this morning, Carrie Bickmore's house was a modern parenting nightmare.

If Carrie Bickmore looks a little bleary-eyed on The Project tonight, we know why.
The TV presenter shared on Instagram that she didn't get the sleep-in she was hoping for this morning.
In a play-by-play that sounds like every sleep-deprived parent's nightmare, the mum-of-two said her three-year-old daughter, Evie, awoke at 5.24am screaming for her mum to get her.
Bickmore tried to keep Evie from waking her big brother Ollie up - to no avail - and it was only minutes before the kids ruined their mum's last chance at a snooze.
"Kids climb into bed, kick around and make a fuss til I can't deal anymore and we get up and start our day," she concluded.
Well, that's one way to become a morning person.
5. The KIIS FM radio stunt that could've accidentally killed a celebrity chef.
Journalistically speaking, killing your interviewees on air is a bit of a no-no, and yet that's almost what happened today on KIIS FM's drive time radio show starring Will & Woody.
You see, Will and Woody wanted to road test their new sushi roll, called the Wok 'n' Woll, which is available at Sushi Sushi stores.
They invited none other than celebrity chef Iain "Huey" Hewitson of Huey's Cooking Adventures fame to try it.
Let's just say that maybe a bit more research needed to be done and things didn't exactly go to plan.
Mistakes do happen right?
You can get the entire story re: Huey's brush with death right over here.