It's no secret that Dave is without a doubt this season's Married at First Sight villain.
After Monday night's episode, fans were furious when Dave reacted…well, in the complete opposite way to how you should react when someone opens up to you about their body insecurities.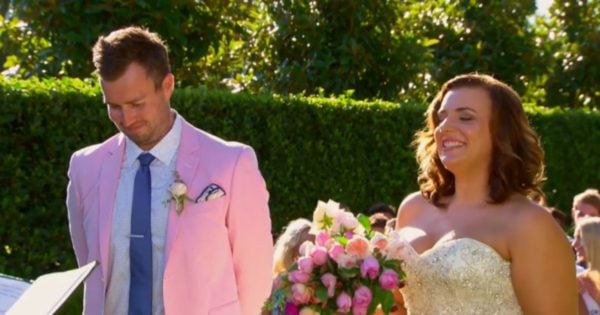 "I'm self-conscious around people in my swimmers. I can see a lot of faults with the way I look in swimmers and it takes me a long time to be comfortable with what my partner sees," Jess explained on the couple's honeymoon.
Dave's response? "You're never going to get over it?"
So, yeah, no big surprise really that Dave and Jess have gone their separate ways.
"I don't see it going anywhere to be honest... and I think it's better to tell you now rather than a few weeks down the track. It's unfortunate. I don't think it can work out," he said.
OUCH.
Now, Jess has joined the chorus of voices who are criticising Dave for his behaviour on the show.
Speaking to Today Extra, Jess was asked whether she thought the amount of criticism in the media - and on social media - that Dave was receiving from his comments was fair.
"I do feel for Dave, I have seen the comments and he is copping a lot of flack," admitted Jess.
"But at the same time, he said those things. He treated me that way and sometimes you just need to man up and own your behaviour."
BOOM.
And that, ladies and gentlemen, is how you handle a breakup on national television.