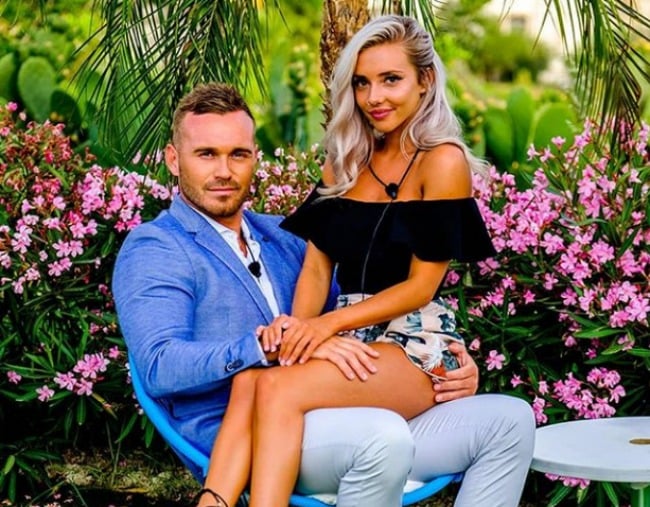 They're easily Love Island's most controversial couple, and after making headlines for their bad behaviour, Eden Dally and Erin Barnett can add another scandal to their growing list.
Fans are convinced the pair knew each other before appearing on the show. In fact, some think they may have even been a couple.
It all started when fellow contestant Millie Fuller gave an interview to Daily Mail, claiming she was convinced the couple knew each other from outside of the show.
"I just think the whole thing seems staged on their behalf," the 24-year-old told Daily Mail.
"I won't forget on the first day, Erin kept repeating 'I know the last guy is for me' – when there was already four guys there."
Fans may remember in the first episode, when all of the other girls had chosen their partners, Erin, 23, held out until the very end, when Eden was brought out.
Making things even more suspicious, Eden, 25, appeared to know Erin's name before having even been introduced to her – but this may just come down to the way the scene was edited.
Still, it was enough for fans of the series to jump onboard the conspiracy theory train.
According to an Instagram fan page for the show, Loveisland Australia Reactions, something doesn't add up.
"I did think it was strange Eden knew Erin's name before Sophie mentioned any names," they wrote.
"It COULD be editing but the scene is clearly uncut? Also she REALLY didn't want any of the guys to choose her and said she would attack if any girl tries for Eden within 3 mins of meeting him?"
Fans commenting on the post were equally convinced.
"I knew this from the beginning…they clearly know each other. She knew he was coming out…that's why she never stepped forward for anyone," wrote one person.
"I have said they were fake from the start," commented another.
But in a statement to Mamamia, Channel Nine maintains the couple only met for the first time on Love Island.
"Erin and Eden first met each during filming of the first episode of Love Island Australia in Mallorca," a spokesperson for the network said.