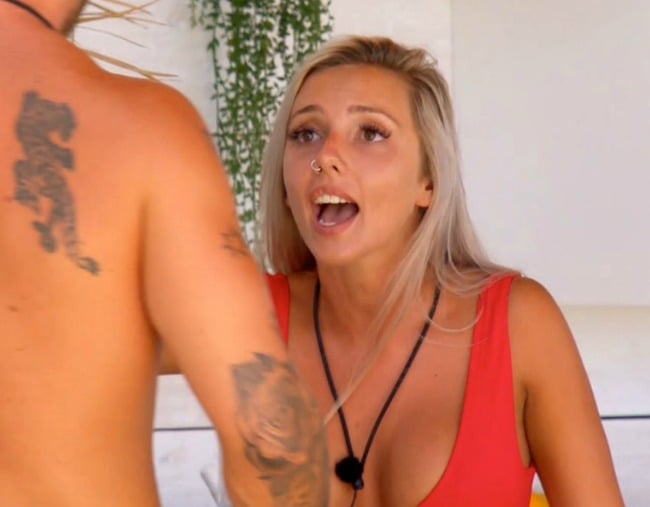 On last night's episode of Love Island, Erin crossed a line.
The 23-year-old is in a relationship with fellow islander, Eden Dally. Their short-lived relationship could be described as explosive and toxic, and sometimes even downright ridiculous.
The couple who have known each other for all of five weeks are possessive and jealous and easily inflamed.
They fight with each other, they fight with the other islanders, and they're a constant source of tension in the villa.
While concerns about Eden and Erin's behaviour have been building for weeks, last night they reached a tipping point.
During a lie detector challenge, Eden admitted that he found fellow islander, Millie, attractive.
What seemed like a simple admission, soon turned explosive.
Erin began screaming at both Eden and Millie. She told Eden not to come down stairs and she told Millie not to even look at her.
She then got up from her position on the couch and stormed out of the villa, threatening to "get a knife" to stab Eden with.
Eden quickly followed her out and they had a heated argument before making up.
The 25-year-old then told Erin she was "cute" when she's angry and basically implied he liked the fact she was jealous.
While this may seem like a silly little argument on a reality TV show, it hints at a much bigger issue.
If a man were threatening a woman the way Erin is threatening Eden right now and acting like her, it would be rightly called abusive. She is toxic beyond belief. #LoveIslandAU

— Clementine Ford (@clementine_ford) July 3, 2018
So many teenage girls are referring to Eden and Erin as "goals" on instagram. ???? please stop, that is not a healthy relationship!! Cheers Love Island for helping normalise abusive relationships.#LoveIslandAU

— Nikea Christine (@NikeaChristine) July 4, 2018