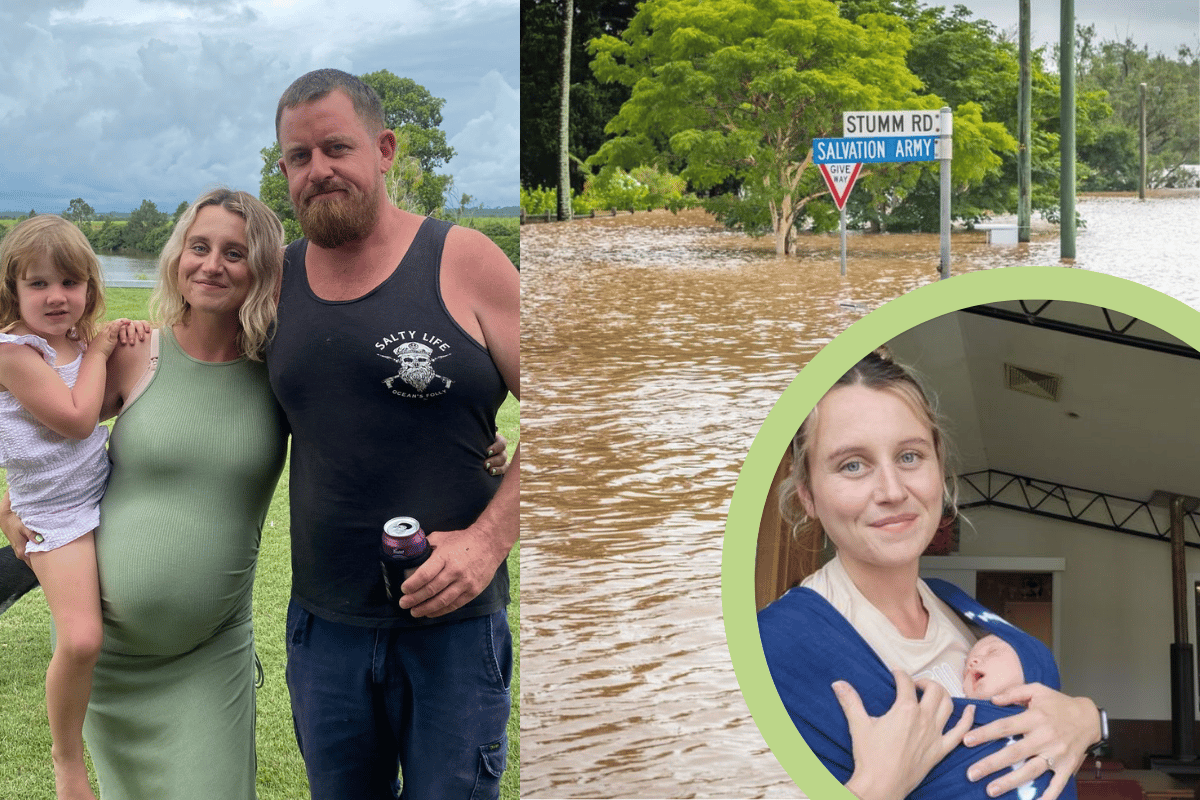 Bianca lives in Northern NSW with her fiancé Kurt, four-year-old daughter and her newborn child. 
She and her family are one of thousands who are isolated due to the flood crisis currently occurring across South East Queensland and Northern NSW. 
In a bid to raise awareness and tell her story, Bianca has detailed what it's been like for her and her family over the past 48 hours. 
"I am so scared. This flood situation is worse than even my grandmother has seen in her lifetime. I have a newborn baby and all of the roads to access our town are cut off with floodwaters still rising. I am just absolutely terrified," Bianca noted to Mamamia.
Watch: Lismore woman shares her flooding ordeal. Post continues below.
Video via SBS News.
She lives in Coraki, a rural town located approximately 30 kilometres away from Lismore, where floodwaters have washed down the river to Coraki. In 1974 floodwaters peaked at over 12m in Lismore. So far, Lismore has peaked at 14.4m this week. 
On Monday morning, Bianca began to lose power in her house, and those in low-lying areas of the town were evacuated. Today, Bianca has woken to find her family's generator is now out of fuel. "We have no power and many, many, many people are still stranded awaiting rescue, with water levels rising in areas out of town," she shared.
Currently, Bianca and her immediate loved ones are safe, as they are located on the top of a hill. Bianca and Kurt live in a two-bedroom flat with their four-year-old daughter and seven-week-old baby: and because of their 'prime' location, they have their home set up as a makeshift evacuation centre. 
The view from our property in Coraki #NSWFloods #qldfloods pic.twitter.com/BaZO0Ehs5g

— AJ Holm (@AJHolm5) February 28, 2022