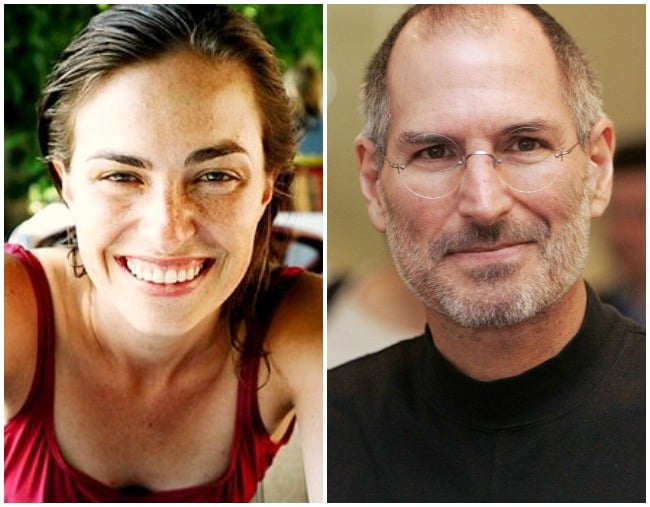 The late Steve Jobs was notoriously private about his family life.
He shared three children with his wife Laurene Powell – Reed, Erin Siena and Eve Jobs – and had a complicated relationship with his oldest daughter, Lisa Brennan-Jobs, who he fathered with Chrisann Brennan in 1978. They were both 23 at the time.
Now, Brennan-Jobs has written a memoir, Small Fry, an excerpt of which was released to Vanity Fair and paints a heartbreaking picture of what it was like growing up with the late Apple CEO.
Describing the inequality between her mother and father, Brennan-Jobs grew up with her mum who "supplemented her welfare payments by cleaning houses and waitressing," while Jobs beginning to build Apple.
She describes how her father denied his paternity when he was sued in 1980 by the district attorney of San Mateo County for his lack of child-support payments and how he only consented after a DNA test proved he was in fact the father.
Meeting him for the first time (since the days after her birth) at three years of age, the now 40-year-old compared him to Darth Vader:
"You know who I am?" he asked. He flipped his hair out of his eyes.

I was three years old; I didn't.

"I'm your father." ("Like he was Darth Vader," my mother said later, when she told me the story.)

"I'm one of the most important people you will ever know," he said.
Her childhood memories of the Apple co-founder paints him to be emotionally distant. She writes about their "once a month" encounters in which he would take her skating, picking her up and taking her home in his Porsche.
"He didn't talk much. There were long pauses," she writes.
"A few times, I felt his eyes on me; when I looked up, he looked away."