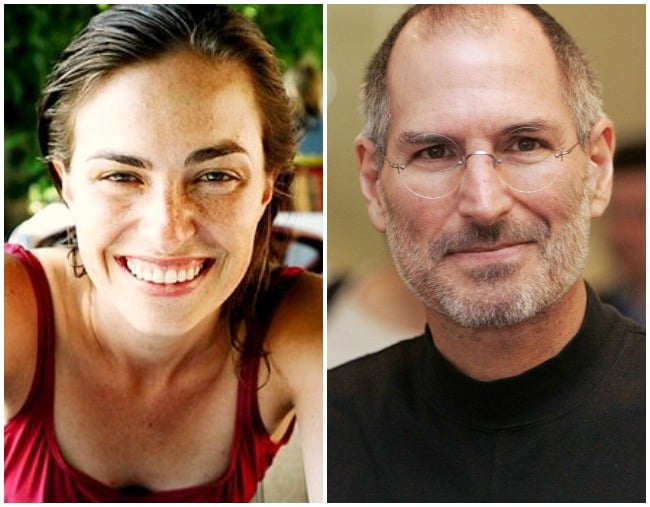 The late Steve Jobs was notoriously private about his family life.
He shared three children with his wife Laurene Powell – Reed, Erin Siena and Eve Jobs – and had a complicated relationship with his oldest daughter, Lisa Brennan-Jobs, who he fathered with Chrisann Brennan in 1978. They were both 23 at the time.
Now, Brennan-Jobs has written a memoir, Small Fry, an excerpt of which was released to Vanity Fair and paints a heartbreaking picture of what it was like growing up with the late Apple CEO.
Describing the inequality between her mother and father, Brennan-Jobs grew up with her mum who "supplemented her welfare payments by cleaning houses and waitressing," while Jobs beginning to build Apple.
She describes how her father denied his paternity when he was sued in 1980 by the district attorney of San Mateo County for his lack of child-support payments and how he only consented after a DNA test proved he was in fact the father.
Meeting him for the first time (since the days after her birth) at three years of age, the now 40-year-old compared him to Darth Vader:
"You know who I am?" he asked. He flipped his hair out of his eyes.

I was three years old; I didn't.

"I'm your father." ("Like he was Darth Vader," my mother said later, when she told me the story.)

"I'm one of the most important people you will ever know," he said.
Her childhood memories of the Apple co-founder paints him to be emotionally distant. She writes about their "once a month" encounters in which he would take her skating, picking her up and taking her home in his Porsche.
"He didn't talk much. There were long pauses," she writes.
"A few times, I felt his eyes on me; when I looked up, he looked away."
Brennan-Jobs recalled that her dad would buy a new Porsche every time he scratched his current one, but when asked if she could "have it when you're done?" his response was biting.
"'You're not getting anything,' he said. 'You understand? Nothing. You're getting nothing.' Did he mean about the car, something else, bigger? I didn't know. His voice hurt—sharp, in my chest," she writes.
Brennan-Jobs also wrote about her childhood belief that Jobs' first 'Lisa computer' was named after her, yet when she finally built up the courage to ask him, he flippantly denied it. Whether this was done out of cruelty or something else, he only admitted it in fact was years later, when she was 27.
Capturing the years before his success with Apple, the film Steve Jobs also features an appearance from Lisa Brennan-Jobs.
By the end of the extract, one thing is clear. Brennan-Jobs longed for her father's acceptance but he didn't reciprocate, and this element of their relationship carried through to his deathbed, when Jobs was dying of pancreatic cancer in 2011.
She describes their tense relationship as such:
"For him, I was a blot on a spectacular ascent, as our story did not fit with the narrative of greatness and virtue he might have wanted for himself. My existence ruined his streak. For me, it was the opposite: the closer I was to him, the less I would feel ashamed; he was part of the world, and he would accelerate me into the light."
But perhaps most devastatingly, was her awareness of it all along.
"For a long time I hoped that if I played one role, my father would take the corresponding role. I would be the beloved daughter; he would be the indulgent father," she says.
"If I had observed him as he was, or admitted to myself what I saw, I would have known that he would not do this, and that a game of pretend would disgust him."
Small Fry by Lisa Brennan-Jobs is currently available to pre-order on Amazon. The title will be released on September 4 and you can read the excerpt on Vanity Fair.