On my way home from work this week I sat at the lights in my car and watched a little girl of about three in a pink tutu hold her mother's hand as they waited to cross the street. The little girl was bouncing and jiggling and I could see her lips moving. Her mother was looking intently. At her phone. She was scrolling and then she did a one hand text yet the little girl's lips kept moving, her hands kept pointing. The mother didn't look her daughter's way once.
The little girl in the pink tutu was in that space reserved for humans next to anyone who is busy on their phone: she was physically there, but in Apple Land. It's a kind of purgatory for people who have done nothing wrong. A strange land where you can talk but no one hears you; where you touch but no-one feels you; where you stand tall but no-one can see you.
You only go to Apple Land for a minute, or a 'Just a sec', or 'C'mon, I just need to send one work text', or 'I just need to check this' (Apple Land is full of 'just' trees). But all those just-a-minutes add up, and I'm starting to think that each time you get sent to this very new land you fade away a little bit more until, perhaps, you can never fully come back together.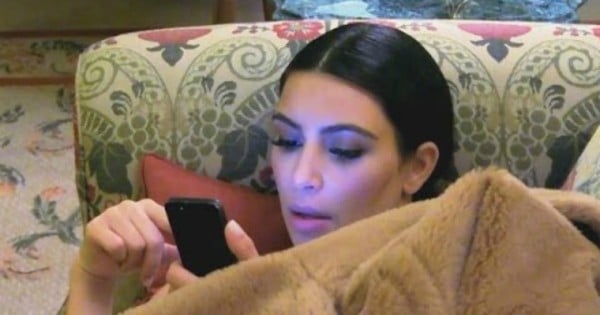 "I'm in my home with my family but I'm not really here." Image via E!
I know this mum was probably busy. We all are (that's why our phones have become "our lives"). The little girl had her daycare backpack on and it was night and there are things to do, dinners to think of, life to live.
I sat in my car and watched the little girl talking to no-one and thought that's what it looks like when I do that to my kids and now I'm going to go home to walk around my house and sigh at my three girls bathed in the apple glow who are going to tell me:
"It's homework."
"I just need to find out who is the President of Indonesia."
"I promise I just got on."
"We're group messaging about Geography."
Mamamia staff member Jessie Stephens gave up her phone for one week. Here's what happened. 

And now I'm in Apple Land - I'm in my home with my family but I'm not really here. At least to the most important people in my life. This is when I want to blame someone. Yes, there is homework going on, at other times I can hear James Corden driving a celebrity around in a car, the blips of a game with the volume turned down low, the ping of Facebook messenger and Snapchat (and I know that somewhere in the history there will be a Kardashian doing something that I will think is actually a human being doing nothing).