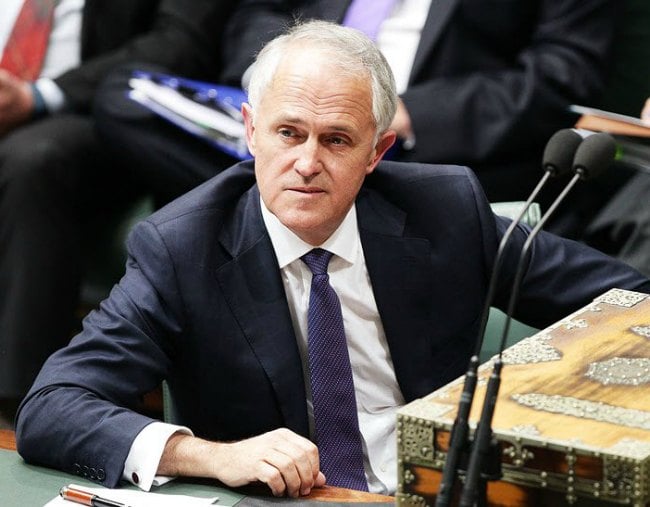 Malcolm Turnbull is facing the threat of a second leadership challenge within days, as his rival Peter Dutton marshals support and begins canvassing alternative policies.
At least 10 ministers have offered to resign after voting against the prime minister in a snap leadership ballot on Tuesday, but most were rebuffed and will remain on the front bench.
Mr Turnbull defeated his ex-home affairs minister 48 votes to 35 in the Liberal leadership spill, but Mr Dutton is now working the phones ahead of a second tilt.
"I am not going to beat around the bush on that, I am speaking to colleagues," he told Melbourne's 3AW radio.
"You don't go into a ballot believing you're going to lose and if I believe that a majority of colleagues support me, then I would consider my position."
Backers of Mr Dutton believe his support levels are quickly climbing.
"Now that the genie is out of the bottle, I'm not sure we can put it back," Liberal MP Craig Kelly told the ABC.
Mr Dutton has started a media campaign to reach out to Australian voters, with migration, energy and fuel prices in his sights.
I suspect wiser heads have prevailed and another challenge will happen this week. There was absolutely no point in waiting 2-3 weeks. #auspol

— Daniel Breban (@DBreban) August 21, 2018
He called for a royal commission on fuel and energy prices, and said he would consider removing the GST on electricity for families and pensioners.
He also pledged to cut Australia's immigration intake if elected leader.
"We have to cut the numbers back (but) I haven't got a number to give to you today," Mr Dutton told 3AW.
At least 10 ministers including four from cabinet offered to stand down after voting against Mr Turnbull, but so far he has only accepted two of their resignations, including that of Mr Dutton.
He also dropped International Development Minister Concetta Fierravanti-Wells after she wrote a scathing letter criticising the Liberal party for "drifting too far to the left".