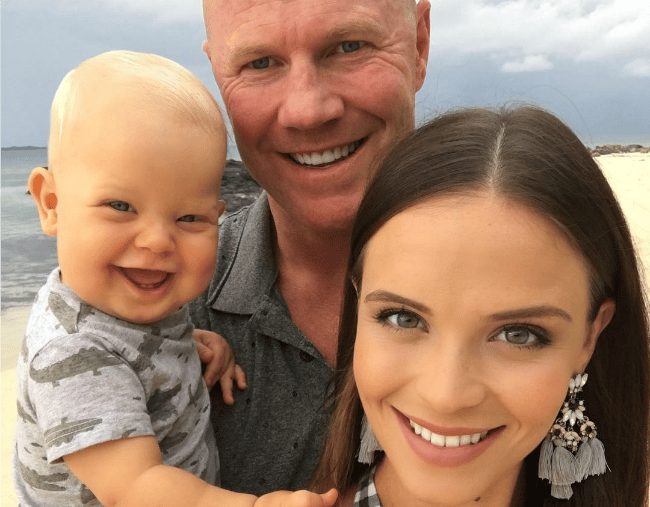 Lauren Brant's usual approach to media attention around her family is to "keep quiet". But after her partner, Barry Hall, was sacked from Triple M on Friday over vile comments about a fellow AFL commentator's wife, the former Hi-5 star felt compelled to speak out.
In a lengthy Instagram post on Sunday night, Brant said she could not stay mum in the face of nationwide backlash against the "honest, humble and fair" father of one.
"What is happening to my family is not OK," the 29-year-old wrote.
"Barry is a beautiful man, the kindest I have ever met.
"He is hurting because of what the country is saying about him and how it is affecting our family."
Hall, a former Sydney Swans captain, was fired on the spot from his commentary gig on Friday evening over a discussion about St Kilda legend Leigh Montagna's pregnant wife, Erinn. Hall insuated that her doctor had acted in a sexually inappropriate manner while performing a 'membrane sweep' – a technique used to instigate labour.
Mamamia has chosen not to publish the grotesque comment.
While Brant conceded her 41-year-old partner's remarks were "stupid" and "completely wrong", she argued that there was no malice or substance behind them.
"What I can not accept, is that he as a person is now being held as an example of what is wrong with this country in terms of its attitude towards women," Brant wrote on Instagram.
"We have sat down and had a very long and honest conversation about how his actions have warranted a national response. We both know there is a problem and understand that people are trying to change it but solely vilifying Barry for this incident is not going to fix it. You have the wrong man for that."
"Our son and myself are being attacked."
Brant, who started dating Hall after they appeared together on I'm a Celebrity, Get Me Out of Here in 2015, said he is not the only target of the backlash.
"Our [one-year-old] son and myself are being attacked (which is a whole other conversation, because how is verbally abusing a woman and innocent child an accepted response to someone being accused of being disrespectful to women?)," she wrote.
The discussion around attitudes to women is one of which Brant is happy to be a part. In her Instagram post, she wrote that she has periously been a victim of "sexual inequality and derogatoriness [sic]" that left her with "suppressed demons". She added that it was Hall who helped guide her through the fallout and empower her.
"He was the only man I have ever come across who made me feel safe to talk, through his genuine respect for me. He gave me strength to love and believe in myself and has supported me to become my best version," she wrote.
Hall publicly apologised for his comments on Saturday, telling media he was sorry for "any offence caused".
"It was a silly thing to say and it is not a reflection of who I am or what my views are.
"I am a proud father and dedicated partner and have nothing but respect for women."
He also expressed his apologies to the Montagnas for any upset the conversation may have caused them.
Friday's Cats-Bulldogs match marked Hall's return to Melbourne airwaves. He'd been called up to fill in for AFL legend Chris Judd alongside Montagna, former player Nathan Brown, commentator Mark Howard and journalist Damien Barrett.
Hall was just eight minutes in to the pre-game segment when he delivered the comment, which was met with laughter by at least two fellow panellists. He remained on air for another hour, but did not return after the 7pm news break.
"Tonight on Triple M Football there were unacceptable and inappropriate comments made by a member of the commentary team," Triple M head of content Mike Fitzpatrick said in a statement after the incident.
"The commentator was removed immediately from the broadcast and an apology was issued on air afterwards. Immediate action was taken with the termination of employment for one team member."