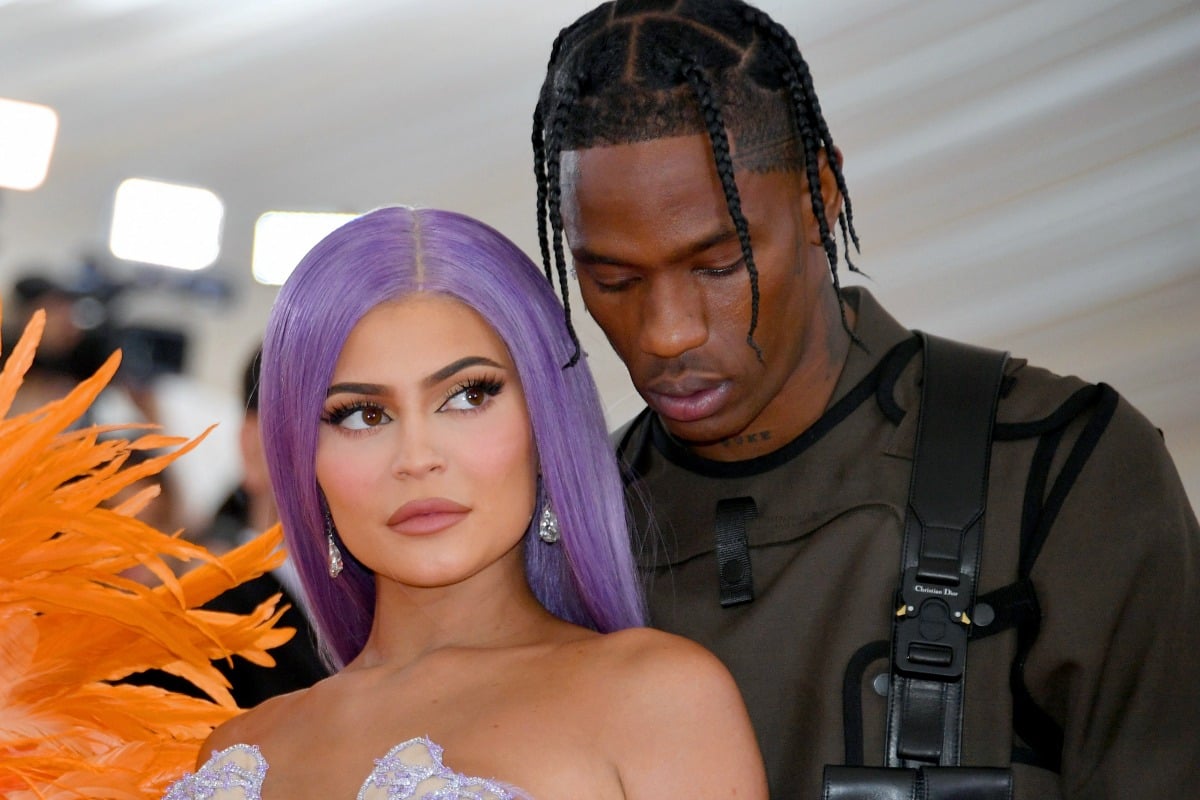 No.
Let me save you all some time by saying that this is indeed the right response to any deep-thinkers out there who are currently trapped in an endless Google hole attempting to determine if one Kylie Kristen Jenner is about to enter into holy matrimony.
Kylie, of course, is a universally recognised public figure, proven by the fact that I didn't actually need to look-up her middle name before inserting it into the opening paragraphs of this story. It had just somehow wormed its way into my mind and soul via that fact that she and her reality TV family take up a whole lot of space on our screens with Keeping Up With The Kardashians. Coupled with the fact that Kylie, as the world's youngest (and most questionable) self-made billionaire, takes up a lot of social media real estate with her lip kit empire promos.
This week, the world went into a spin thanks to a collation of Instagram posts and paparazzi captured photos that made it look like the 21-year-old reality star and the father of her one-year-old daughter Stormi (actual name) Travis Scott were about to throw a surprise lavish wedding ceremony.
The Spill is Mamamia's daily entertainment and pop culture podcast. On this episode hosts, Laura Brodnik and Kee Reece break down all the "clues" that Kylie Jenner is getting married and why it's all a calculated publicity ploy. 
The first clue came about in the form of Kylie Jenner posting a video to her Instagram account earlier this week showing the entire lower floor of her gargantuan mansion covered in a sea of red rose petals.
The scene, which was hauntingly reminiscent of that iconic moment from horror flick The Shining, where a literal wave of blood cascades down the hallway of a haunted hotel, was accompanied by excited squealing from Kylie as her toddler Stormi (actual name) struggled not to sink beneath the ripped flower corpses as she tried to make her way to safety within the walls of her own home.
While the child struggled for survival, Kylie gave her millions of Insta followers a peek at the card from Travis, which included the phrase "We're just getting started, love you!". This led fans to believe that this tango with potential death by rose petal was not, in fact, a lead up into her 22nd birthday celebrations, but rather a hint of the wedding to come.
But if you cast your mind back to Valentine's Day of this year, and the antics of her sister Kim Kardashian and her husband Kanye West, you'll see that this is less about romance and more about knowing when to show up for the 'gram.
The Kardashian-Wests had Kenny G trapped in their home via a force field of singular roses on V Day and that wasn't any kind of big announcement or statement, just a reminder that sometimes the things you write down in your dream journal shouldn't actually make their way into reality.