For the uninitiated, December is THE most exciting month to be a Kardashian. Because, each and every year, the family – which seems to grow bigger by the by year – releases a totally extravagant, totally ridiculous Christmas card.
In 2017, the family are doing something a little different, and are teasing the snap little by little, day by day.
It's kind of annoying because fans have been anxiously awaiting the confirmation that sisters Khloe and Kylie are, in fact, pregnant. Confirmation we finally got from Khloe this morning on her Instagram.
It's also annoying because it means on some days, our Instagram feeds are clogged up with images like this: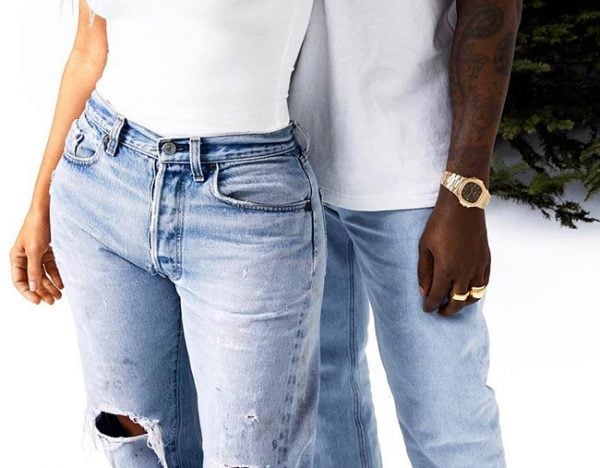 Over the past few weeks, we've seen images of Kanye and Kim, and their two children - Saint and North West. As well as Kendall and Kourtney with her kids.
But today, on day 20 of the never-ending reveal, some fans were left confused when this Kardashian popped up in their feeds:
One senior editor in the Mamamia office described her as "the Kardashian I never knew existed".
So, who is this ~~mysterious~~ woman? This woman who kinda-sorta looks like Kris Jenner?
Fans of Keeping Up With The Kardashians will know that the woman is none other than Mary Jo Campbell, Kris Jenner's 83-year-old mother.
Despite her matriarchal status, M.J., as she's affectionally known by her granddaughters, looks right at home among her denim and white-shirt clad family members.
M.J. is a bit of a fan favourite for those who have watched the family's reality TV show from the beginning. In fact, many who commented on the latest Christmas card reveal called M.J. the "greatest Kardashian of all time", despite the fact she's not really a Kardashian at all.
She's also made regular appearances on the family's Instagram feeds, regularly attending family events and gatherings.
Kim and her sisters have also very obviously inherited a few of her traits, too: M.J. fell pregnant with Kris when she was just 19, the same age Kylie was when rumours of her pregnancy started earlier this year.
She was also married to her first husband for "less than two months", which is actually shorter than the time Kim was married to Kris Humphries.
Go figure.
LISTEN: No babies were announced in the first episode of Season 14...and this could be why.