September 23, 2017, will forever be known as the day I stopped sleeping through the night. It's also, curiously, the day that news broke that Kylie Jenner, at just 20 years old, was expecting.
Are the two linked? We'll never know… (Hint: Yes they most certainly are and I'm not even the tiniest bit ashamed to admit it).
Things only became more complicated when, four days later, Kylie's older sister Khloe Kardashian was also rumoured to be baking up a bun in her oven.
If it wasn't for the giant bags under my eyes, an iPhone camera roll full of Instagram screen shots that have been zoomed within an inch of their lives and a Google search history that reads 'R KYLIE AND KHLOE RLY PREGNANT PLZ HELP I MUST KNOW', it'd be hard to believe it's been nearly two entire months since the gossip began.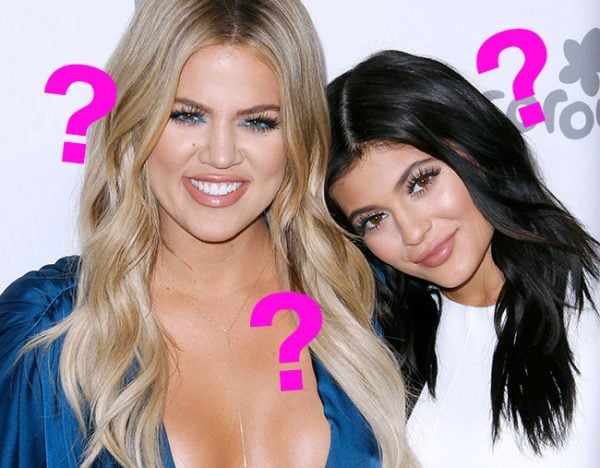 TWO. WHOLE. MONTHS. With only speculation to guide us and no official word from any of the 23,984 members of the Kardashian Klan.
We want Kris Jenner and co. to know that we know their very real and not at all strategically released to ensure the Kardashian/Jenner name stays in the headlines secrets, so we've complied a list of all the pregnancy hints dropped so far.
We'll get to the bottom of this, you guys. It's all about teamwork.
Kris Jenner's Christmas haul.
'Momager' and Kardashian mastermind Kris Jenner may have just let slip the biggest hint yet that Khloe and Kylie are expecting just last week.
Posting a snap of a bundle of Christmas presents on Instagram, Kris wrote that they were "gifts for every one of my grandchildren".
Kris currently has six grandchildren: Kourtney's three kids, Penelope, Reign and Mason; Robert Kardashian's daughter Dream; and, Kim's two children with Kanye West, North and Saint.
With Kim expecting a third baby via surrogate, that makes seven.
BUT THERE ARE NINE PACKAGES, YOU GUYS.
LISTEN: Three Kardashian babies are on their way. And the timing is very convenient.
Two extra presents for the two extra babies that may or may not be growing at this very second.
Sadly, the detective work of some fans has pointed out that the mysterious packages appear to be beddings, and not parcels of little pyjamas like the rest.
"Guys the the 'two extra ones' is bedding! A simple click through their products would confirm this," one fan wrote.
"Calm down. Y'all look ridiculous playing detectives."
Kylie's mysteriously cropped selfies.
Even before news of Kylie's pregnancy broke, her 99.5 million fans had noticed something very strange about her feed: the 20-year-old was only posting 'old' pictures of her body, and every single selfie was cropped closely to her face.
Any picture did happen to accidentally-on-purpose show her body featured baggy shirts and jumpers. The exact type of baggy you need if you want to cover up a burgeoning baby belly, perhaps?
Khloe's mid-year Snapchat clue.
Remember when Khloe Kardashian shared a Snapchat photo with her 26-year-old beau Tristan Thompson and captioned them "Dad & Mom"?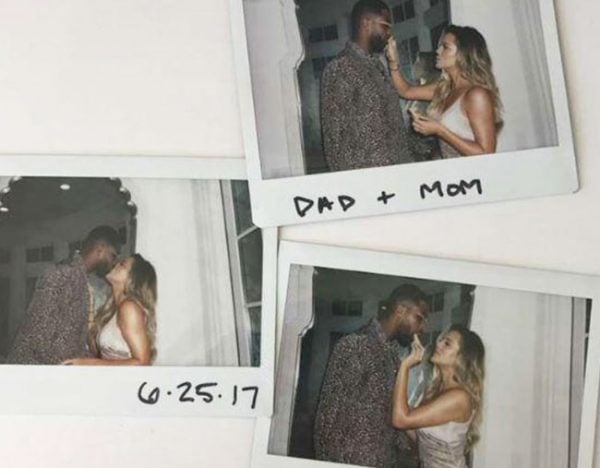 You probably don't, or you might have just thought, "That's weird and also kind of irrelevant but they seem happy, I guess?" when they popped up in your feed.
The images became très relevant, of course, the second Khloe was rumoured to be expecting - especially considering the images were shared exactly three months and one day before the rumours began.
Could the snaps be from the day Khloe and Tristan learned a little mini was on the way? The argument was made even stronger by the fact the pair had been referring to each other as "momma" and "daddy" on Instagram.
Kim's curiously-timed throwback.
In amongst all the drama, it's easy to forget that Kim is also expecting a new bundle of joy - the only one of the recent Kardashian babies to be actually confirmed and publicly acknowledged.
But the fact that Kim's second daughter - who is arriving via surrogate soon - is on the way further cements that she may have dropped a major hint with a 'throwback' photo on Instagram.
The image, posted two weeks before news of Kylie and Khloe's pregnancies went public, pictures all three 'expecting' sisters with the caption, "The 3 of us..."
Fans took the liberty of filling in the rest of Kim's sentence in the comment section of the post, writing "The 3 of us... Are pregnant!"
The hints of Khloe Kardashian's baby bump.
Unlike Kylie, 33-year-old Khloe has had no qualms in sharing full body images of herself on Instagram, despite the persistent pregnancy rumours.
So convinced are fans of her pregnancy, she was even accused of Photoshopping her bump out of one snap.
And they've been busy pointing out the signs of a bump ever since.
Fans were convinced this snap of Khloe shows off a bump, and have pointed to the fact she's been spotted wearing loose-fitting and flowing dresses (like the one she wore to Kim's lavish baby shower last week) of late.
The spanners in the works...
Of course, there's no confirmation without conflict, and there are a couple of big clues that Kylie and Khloe are in fact NOT with child at all.
When a tabloid published images of her bump, Kylie Jenner claimed they had been "stretched" to make her appear larger, calling the "crooked lines" in the photo solid proof.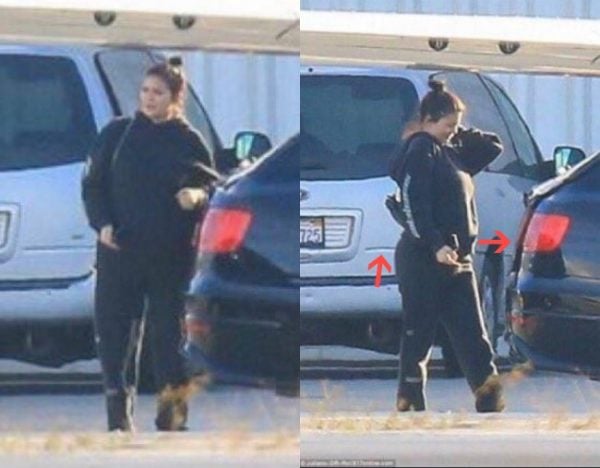 Then, a day later, Kylie was spotted buying Tampons at a convenience store. Tampons that a pregnant woman would most definitely not be needing.
Of course, the biggest sign that neither Kylie or Khloe are expecting is the fact that not a single word of confirmation has been uttered about it.
Then again, the season finale of the 14th season of Keeping Up With The Kardashians is only weeks away...
Distract yourself from the ups and downs of a potential Kardashian pregnancy by listening to the latest episode of Mamamia Out Loud: