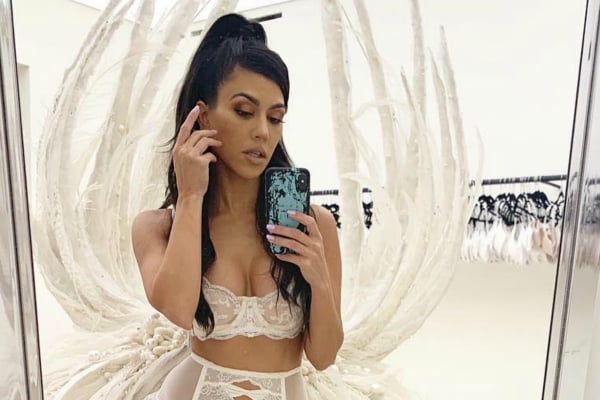 When Kourtney Kardashian and her fellow sisters dressed up as Victoria's Secret models (complete with actual VS-supplied wings) we were more or less non-plussed.
Lingerie, embellishments on embellishments and co-ordinated looks, it wasn't really that much of a departure from the Kardashian/Jenner fashion spectacle we've come to know the family for.
 

View this post on Instagram

 
But then, 39-year-old Kourtney shared a behind-the-scenes shot of her in costume, and people were quick to notice what was in the background.
No, it wasn't the impeccable row of bras all hung up neatly, because… who does that?
Nor was it the overwhelmingly white colour theme going on from the clothes, to the walls and even the plush sheepskin rug.
Or what looks like a pair of dollar shop fairy wing sitting on the bottom right hand corner of the mirror, next to their oversized, hand-crafted, Victoria's Secret companions.
 

View this post on Instagram