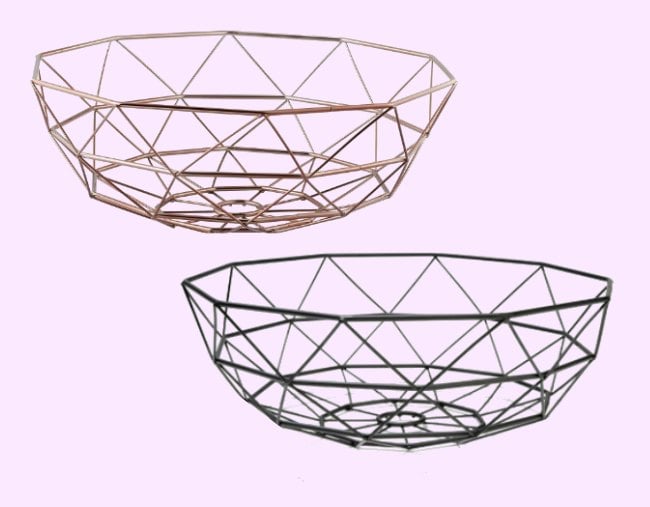 If you think a that a wire fruit bowl is just a mere fruit bowl, than you probably haven't been spending enough time on the Kmart Mums Facebook group.
Luckily, we've got you covered.
Their latest design trend involves turning a basic, $6 wire fruit bowl (available in black and rose gold) into a stylish lamp or light shade, with some members elevating the design with fairy lights, crotchet and other decorative accents.
Members found they could easily assemble the quick DIY by threading the bowl through a light fixture and screwing the bulb in to secure the design.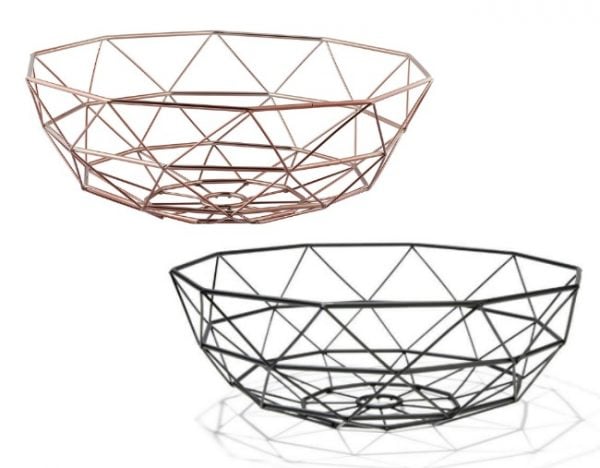 Bathurst-based member Natalie Harris told Mamamia that the whole process was "super easy," and has decorated several lights this way.
To match her vintage-inspired, cosy, garden-themed home, Natalie entwined fake plants around the bowl for one light and matched the other with her homemade crotchet decorations. And as you can see, the results are fantastic.
The orb light.
You can also create a circular 'orb light' by attaching two bowls together with a cable tie. Some particularly creative folk have entwined them with fairy lights and other accents before hanging them up as party decorations.
Since these aren't connected to a light source you can hook them up to a ceiling beam with heavy duty fishing wire or twine. Alternatively, they look great as garden lights and table decorations too.
Queensland mum Sherri Sutcliffe, who hosts a cooking page with her friend, Larell, has created a range of orb lights by simply mixing string lights and various garlands together, and placing them around her garden. It's an easy decoration for those who love entertaining outdoors, and you can bet the lights look a lot more expensive than their el cheapo price tag.
Kylie Davis has gone for a similar 'cage' design for her kitchen with the addition of a little pot plant placed inside the two bowls.
Hanging mobiles.
The wire structure of the bowls also make them the perfect base for creating mobiles and hanging decorations.
For the Harry Potter fan, Natalie also created a Harry Potter inspired mobile with the addition of a few Dollar Store additions.
"I made the flying keys with masking tape and used beading wire to give them some strength," she told Mamamia.
Other options could also include dangling strings of fairy lights from the bowl, or using fake flowers, metallic tassels or ribbons.
This also makes it kid-bedroom friendly, and if you're scrounging around for a weekend, rainy-day project, then consider yourself sorted for the afternoon. You can spend the day drawing or colouring pictures or creating arts and craft bits and pieces before attaching them to the wire bowl, changing the decorations out whenever you see fit.
What do you think of this clever DIY? Tell us in a comment.