There is nothing quite like a Kmart furniture hack to make you decide to renovate your entire house.
If they can do all those fancy renovations on The Block, surely you can make a DIY bench?
That is exactly why everyone is obsessing over this ridiculously easy Kmart hack that Alicia, the founder of My Burleigh Reno, shared on Instagram yesterday.
In the post, she wrote that she is regularly asked where she gets her benches from, and that's when she let us all in on her furniture hack.
"To all my new followers the bench you see throughout my feed & mainly found at the end of my bed is the Scandi Shoe Rack from @kmartaus for $35. I have simply recovered this item in fabric (for under $8) using a staple gun. I have 3 different covered shoe racks throughout my home," she captioned the image.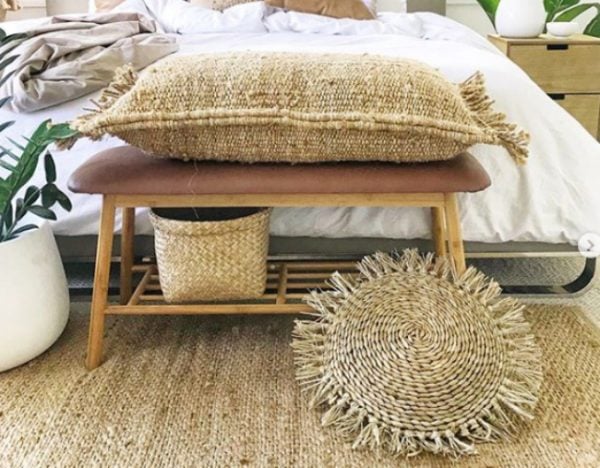 She continued to list the ridiculously easy instructions.
Alicia says you will need a piece of fabric measuring at least 1m x 40cm, scissors and a staple gun.
 Place fabric so it's even across the existing soft padding.
Find the first button and cut a small hole into fabric and stretch over the button.
Start to staple the fabric in place smoothing out any creases. I left the rounded corners for last.
Repeat step 3 with the second button.