1.  She might not have wanted to hear from Sarah Jessica Paker, but Kim Cattrall has thanked Cynthia Nixon for her condolences.
While we know that Kim Cattrall and Sarah Jessica Parker aren't exactly on erm… speaking terms, it seems like there's no love lost between her and Sex and the City co-star Cynthia Nixon.
Responding to Kim's Instagram of her and her late brother, Chris Cattrall, Cynthia expressed her condolences.
"Hey Kim, such awful news. So sorry to hear. Sending you love. XO," she wrote.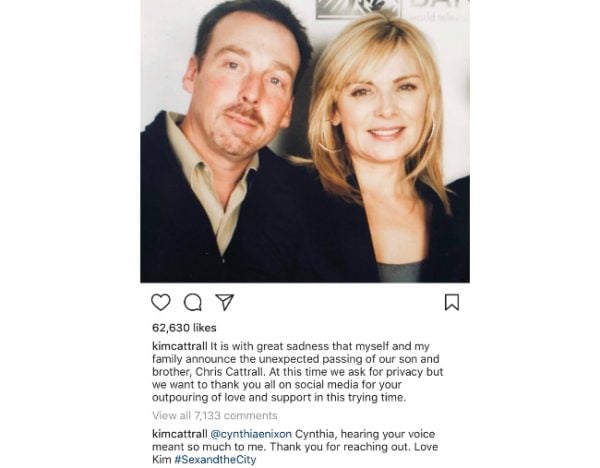 And it seems like Kim was touched by the sentiment and responded with, "Cynthia, hearing your voice meant so much to me. Thank you for reaching out. Love Kim."
This comes as good news for die-hard Sex and the City fans who have had to wither the recent drama between Kim and Sarah Jessica Parker (who sent Cattrall a similar message and it um, didn't go well). It's kind of just nice to know that there's still some love left between some the original cast.
2. Married At First Sight's Davina once stood next to Kylie Jenner's brother Brody... and that is all.

It seems Aussie tabloids can't get enough of Married At First Sight's Davina Rankin.
The latest groundbreaking piece of dirt to be unearthed? That she has a met a few American and British reality stars.
Yep, it seems Davina once stood next to and got a photo with Kendall and Kylie Jenner's half-brother Brody Jenner back in 2013 after meeting him during a photoshoot for surf brand The Mad Hueys.
But that's not all. She's also stood next to Geordie Shore's Gaz Beadle and Ryan Moore.
So the takeaway is... she likes B-grade reality stars, we guess?
LISTEN: Davina is the most unlikeable MAFS contestant yet, if you don't mind us saying so. Clare and Jessie Stephens discuss.
3. Keith Urban and Nicole Kidman never spend more than a few days apart and awwww.
If there's a Hollywood marriage that's really stood the test of time, it would have to be that of Nicole Kidman and Keith Urban. They're no stranger to a good dose of PDA, and together they've been married for 12 years and have two kids together.
And now we know the secret behind their successful marriage. Turns out it's not Hollywood's best-kept marriage counsellor, but a relationship basic - time.
Speaking to Bianca, Terry and Bob on Brisbane's 97.3FM Keith said that him and Nicole just try and make sure they're never apart for more than "a handful of days" - something that's a lot easier said than done when your other half is well... Nicole Kidman.
"We never made a promise to each other," he said. "I just don't want to be away from her for two weeks or [even] a week.
"We try and schedule pretty much everything so that we're not away from each other for more than a hand full of days."
The country singer also revealed that this 'rule' transcends geography, and the family will relocate depending on the work commitments of the other.
"Even when she was shooting Lion in Australia we just relocated down to Tassie for a few days and wherever else we had to go so we just stay together as a family it's really important to us," he said.
4. So, here's a video of Prince Harry being bitten by a pony.
Seems not everyone is charmed by Prince Harry. The royal redhead and groom-to-be was almost bitten by a man-eating pony while out on an official engagement in Scotland with fiancee Meghan Markle on Tuesday.
Harry was minding his own beeswax, just being princely and mingling with the crowd in Edinburgh when he encountered the angry Shetland pony, formally known as Corporal Cruachan IV, in case you were wondering.
The horse is with the Royal Regiment of Scotland, and just like his name suggests, he wasn't having any nonsense.
Harry tried to pat the horse several times, and each time, Corporal Cruachan tried to take a bite out of his hand. At one stage, the 33-year-old prince called out, "Hey!" as he yanked his delicate fingers away from the pony's nashers.
You heard that straight from the horse's mouth, sorry, the Prince's mouth.
5. Ladies, do not even think about touching Jay Z, okay?
If you didn't already think Beyoncé was a boss not to be messed with, this little anecdote provided by her friend Tiffany Haddish will set you straight.
As the Girls Trip actress described to Us magazine that she and another actress were backstage at a concert talking to Beyoncé's husband Jay Z, when the actress did something that crossed the line for Queen Bey.
"She touched Jay-Z's chest and Beyoncé came walking up like . . . 'B**ch!' but, she didn't say that," she explained.
"Her demeanor, her body from the way she walked up on them said, 'Get your hands off my man's chest'."
Tiffany wouldn't go into what happened next, except to say the actress and the singer "started talking," but suffice to say you don't mess with Beyoncé.
LISTEN: We've got the latest episode of Mamamia Out Loud - The life changing magic of a no chat button, where the team debrief on the Sex and the City drama and whether it's really better to be single (science says it is).