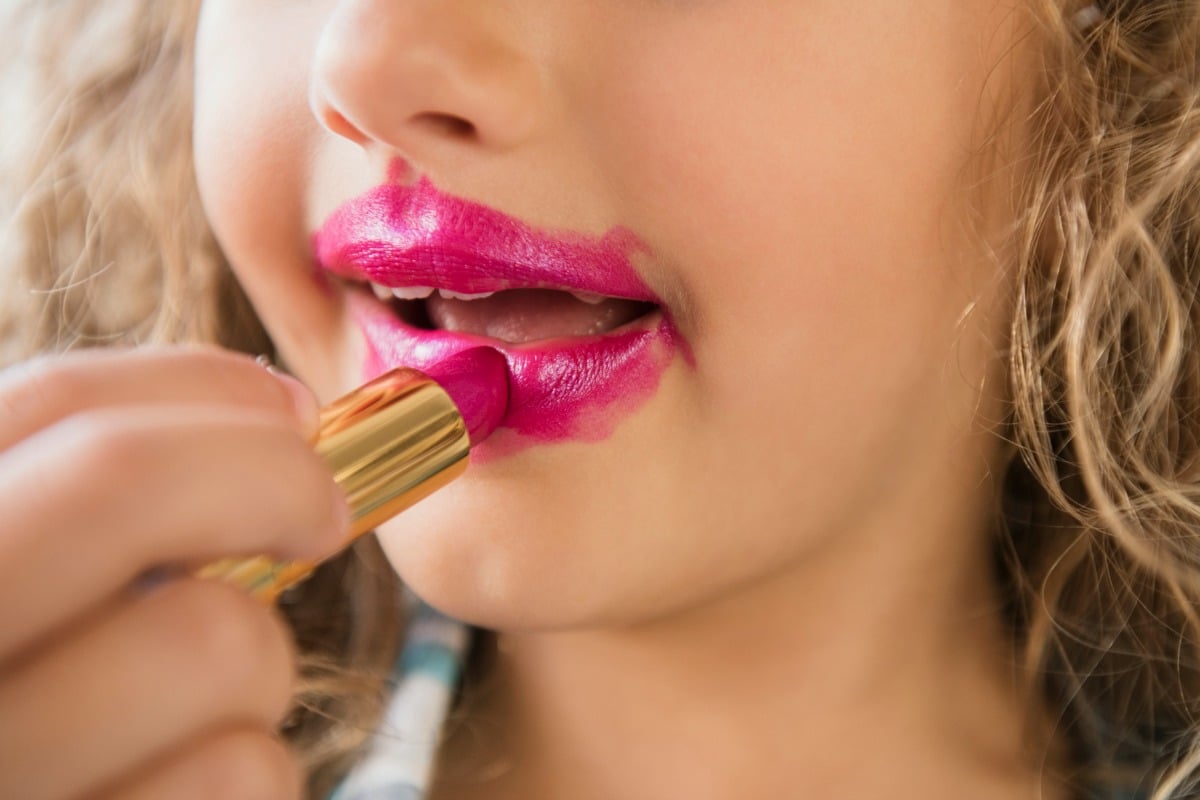 My nine-year-old daughter Gracie has been sneaking into my makeup collection. I'll find lipsticks uncapped in my bedroom, or little specks of eyeshadow powder in the bathroom sink. Sometimes she'll squirrel away one of my lipsticks until she emerges randomly from her room days later with plum lips decorating her crooked smile.
Since she's clearly shown an interest in playing with makeup, I thought there would be no harm in providing her with a basic set of her own. I took her to the store and we picked out items that boasted price tags under $2: three shades of Wet n' Wild lipsticks, an eyeshadow palette that could have been titled "Clown Face," and some simple mascara. When we got home, she immediately opened her Caboodle and leaned into her reflection in the pop-up mirror, foam eyeshadow wand in hand.
When it came time to leave the house again, Gracie came downstairs in a cloud of some of my old perfume like a glamorous Pigpen. Her eyelids were little robins' eggs; her lips, two streaks of neon pink. She smiled as she walked toward me. I cupped her face in my hands and noted her eyelashes fanning out in little clumps. Faint ghostly pink smudges colored the skin around her mouth, evidence of trying to correct errant lipstick lines. I debated whether I should take her out in public with her face so…vibrant, and ultimately settled on yes. She was happy with it, so I wouldn't get in her way.
Then came some more formal occasions. A daddy/daughter dance. A wedding shower. Each time, Gracie could not wait to put on one of her favourite dresses and again paint her face like a little freckled canvas. I began to feel a little self-conscious as she posed for pictures next to her conspicuously natural-faced friends and cousins. I began worrying about what ​other ​people might think. I could easily see ​'Isn't she a little young?​' dancing around the tops of some other women's heads.​ ​I had already engaged in conversations before with other parents about various milestones that girls encounter and how to regulate them. When should my daughter get a piercing? When is she old enough to wear makeup? When should she wear a true bikini versus a racerback two-piece? Shave her legs? When, when, when?
Listen: On This Glorious Mess, Holly and Andrew discuss what age you should let your daughter dye her hair…

I remember distinctly that my father wouldn't allow me to wear a two piece suit at all, and he definitely did not approve of makeup — even the Bonne Bell play kind. When I had playdates with kids of more "relaxed" parents, I can remember borrowing two-piece suits and putting on the makeup, only to return the suit or wipe off the lipstick long before Dad came to pick me up. If I asked him, he would say that little girls shouldn't wear makeup, show their bodies, fill in the blank. I probably asked him a million times Why?? ​But now, I hear the same thoughts in my head that start with "little girls shouldn't…"
On the way to a wedding shower, I stole glances at Gracie in the back of the van via the rearview mirror. She wore a blue tie-dye dress and her favourite hot pink lips and electric blue eyes. I said, "Gracie, maybe you should tone down the eye shadow a little bit. Wipe it with your finger so that it's not so bright."
She considered my suggestion and agreed, but understandably asked, "Why?"
The answer wasn't on the tip of my tongue, so I settled on, "Because when you go to a daytime event, makeup should be lighter."