Princess Anne's floor-length gown was ripped, split the entire way down her back.
A 26-year-old man, with red hair and a short beard, was gripping her forearm tightly and demanding she, "Come out… You've got to come."
His name was Ian Ball, and for three years he had been planning the kidnapping of 24-year-old Princess Anne.
That night, on March 20th, 1974, Princess Anne, Queen Elizabeth's only daughter, had been at a film charity event with her husband of four months, Captain Mark Phillips. At around 8pm, the royal couple were travelling home in a maroon Rolls Royce limousine, accompanied by Princess Anne's lady-in-waiting, and her bodyguard, Inspector James Wallace Beaton.
We discuss Meghan Markle's kidnapping training on this week's episode of Mamamia Out Loud. Post continues below. 
Their chauffeur was driving them to Buckingham Palace, but as they began on Pall Mall – only 200 metres from the palace – a white Ford Escort erratically overtook them. Suddenly, the small car forced them to a halt.
Seconds later, Ball, a working class dissenter, jumped from the car, waving two handguns. At first, Inspector Beaton thought the young man was likely a raging driver, and stepped out of the front seat to settle him.
From approximately six feet away, Ball shot Inspector Beaton in the right shoulder.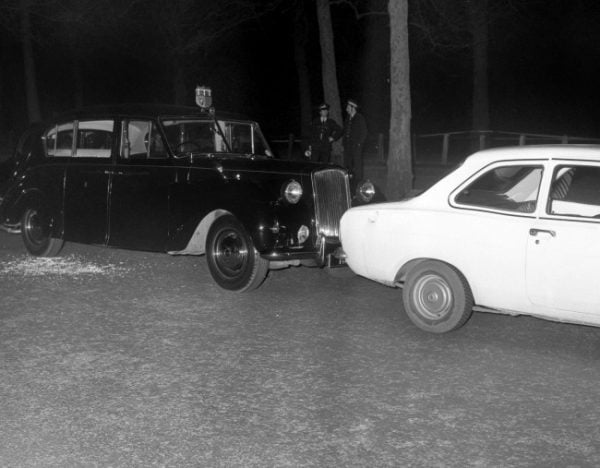 The man, who was later found to be living with untreated mental illness, headed for the backseat of the limousine, where the prince and princess were desperately holding the door shut. It was, however, no use.