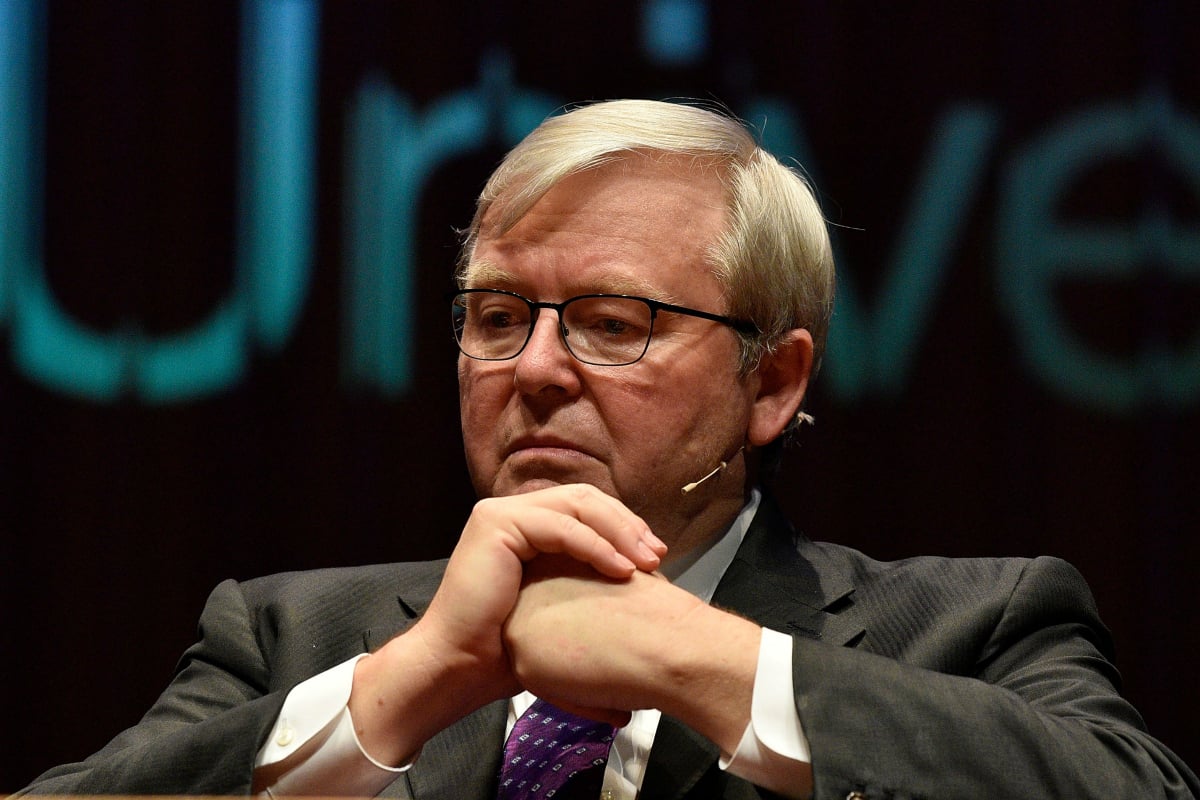 There's been a lot of talk about the culture of Parliament over the past few months. About bullying, intimidation, pressure tactics being deployed by groups of powerful MPs.
But those who have shown vulnerability by declaring they were the victims of such behaviour (think Greens Senator Sarah Hanson Young and Liberal-turned-independent Julia Banks) have been targeted by their colleagues and commentators. They've been accused of weakness, told that Parliament is a place only suited to the thick-skinned, the truly resilient.
A prime example: Broadcaster Alan Jones recently advised MPs who claimed to be bullied during the Liberal leadership spill, that they ought to "take a teaspoon of cement and toughen up". (As if the grubbiness of Parliament should be inevitable or something to simply be endured.)
When this kind of resigned sentiment is festering in the party room, it's not hard to imagine how it's magnified at the top.
Former Prime Miniser Kevin Rudd told Mamamia's No Filter podcast this week about the personal fallout of being ousted from the top job in 2010. The effect on his family, his staff, the personal sense of "betrayal".
But asked by host Mia Freedman whether he'd sought therapy, his response spoke volumes.
"No!" he scoffed.
Freedman: "Why do you say it like that?"
Rudd: "Because I'm a bloke."
He laughed after those words, but it was only partly a joke.
We know that Australian men are less likely than women to seek professional help for their mental health. Then add to that the toxic perception that our leaders ought to only ever show strength, be tough yet easy-going, and, well…
"Just imagine a story where you'd have those sensitive souls from the Sydney Daily Telegraph, or News Corp generally, saying 'Prime Minister Consults Shrink'," Rudd continued. "I didn't, but you can imagine where those sort of stories could be taken."
Regardless of what you think of Kevin Rudd, the politician, he was a man who avoided therapy in a "tough" time because of how it might look. That's how entrenched this is.
Fortunately, Rudd did have support at home – his wife, Thérèse Rein, is a trained psychologist. But he acknowledged that other sidelined MPs may not.
"I think to be fair to decent women and men in political life of our country – Liberal, Labor or Calathumpian – there does need to be professional services offered to those dealing with the psychology of loss," he said.
"[But] in fact, what you get for the Labor Party is a kick up the bum."