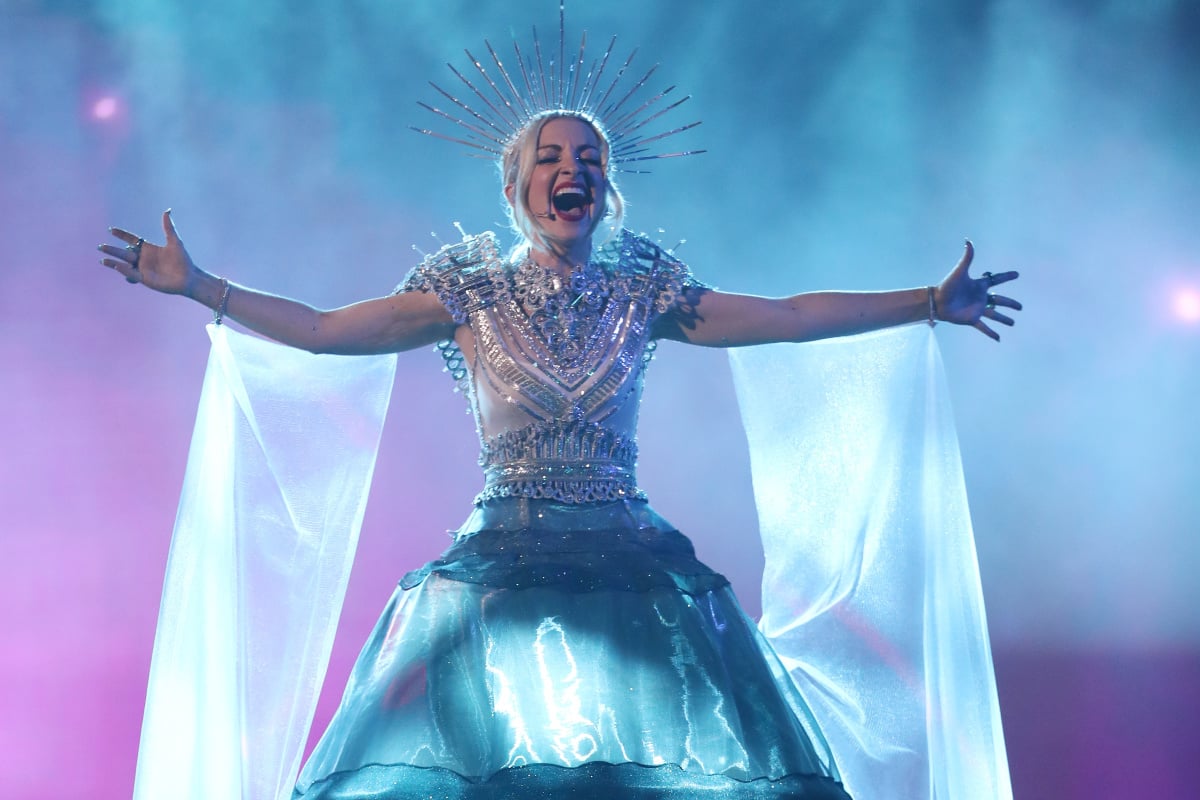 Last night, Kate Miller-Heidke was chosen by the Australian public to represent Australia at Eurovision in 2019.
In the first ever Eurovision – Australia Decides live TV competition, broadcast on SBS, the singer performed her song Zero Gravity, leading her to victory.
Last week, the singer-songwriter said it was her struggle with post-natal depression that inspired her song choice for Eurovision, an annual international song competition.
"Zero Gravity is about emerging from depression into balance again" she shared with her Facebook followers. "It tries to capture the sensation of colour returning to your life, of feeling strong, joyful and relieved."
Miller-Heidke explained that after the birth of her son, which she describes as "lengthy and traumatic", she struggled with depression.
The mum-of-one shared that in a scheduled performance eight weeks after the birth of her son Ernie, she "couldn't remember who I was".
"I was also grieving for the loss of my old identity, and this came with a powerful layer of guilt for my own selfishness."
The singer explains that it wasn't until after her son had his second birthday that she finally felt herself again, saying "it was a feeling of transcendence".
After recovering from post-natal depression Kate Miller-Heidke drew inspiration from her personal struggle to write Zero Gravity.
"The lyrics of Zero Gravity talk to depression personified, as if it were an awful lover or terrible friend, and expresses the relief at finally getting them out of your life.
"Zero Gravity is about leaving seriousness behind, something I feel resonates with the essence of the Eurovision Song Contest!"
Kate Miller-Heidke's lyrics for Zero Gravity, begin with:
"Hey you
Stone in my shoe
I've been aching, feeling low
You're so heavy
I have got to let you go"
"I'm totally overwhelmed!" the 37-year-old singer said after winning last night.
"This has been a peak experience already, and I'm dying with excitement at what's to come. Thanks to everyone who voted, and to all the other artists who provided such a brilliant, eclectic and stiff competition. I've had a ball, and I'm so grateful and thrilled that I get to represent Australia at Eurovision in 2019."
Other notable contestants from last night's Eurovision – Australia Decides, include The Voice Australia 2016 winner Alfie Arcuri and drag queen Courtney Act.
This will be the fifth time Australia has been represented at Eurovision, with the competition being held in Israel in May this year.
The previous Australian Eurovision picks have been Guy Sebastian, Dami Im, Isaiah Firebrace and Jessica Mauboy.